5 Eco-Friendly Promotional Gifts for Virtual Events That Make Connections IRL (In Real Life)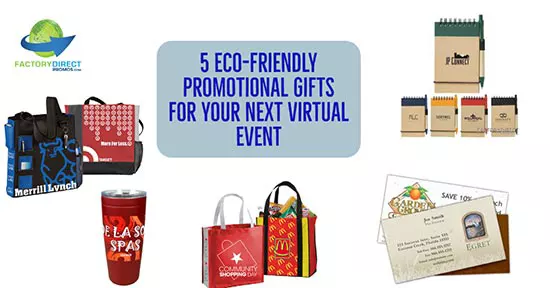 5 Eco-Friendly Promotional Gifts That Make Memorable, Real Life Statements for Your Virtual Events
Promotional marketing is an effective way to connect with your customers and forge a long-term, and necessary rapport.
As your customers use your branded items they will think about and become much more familiar with, your brand.
Trade shows have typically been a great way to meet with customers and get your custom promotional item into their hands. The cancellation and delay in traditional trade shows due to COVID-19 gave rise to virtual events which were a great stand-in and made it possible to still stay connected in some capacity.
In-person events are coming back, but many brands have discovered the economy and efficiency of virtual events, so they are here to stay.
Here are five eco-friendly promotional gifts to consider for your next virtual event, that will really make important connections in real life (IRL).
Why Eco-Friendly Matters
You have lots of options when it comes to promoting your business.
There has never been a better time to focus on ways to market your business that will give the best return on investment and will work to grow your bottom line.
Eco-friendly promotional items matter because they are a responsible way to promote your brand, but also effective.
Promotional items made from recycled or sustainable content minimize your brand's environmental footprint. Reusable items help reduce trash and litter.
Studies show that most people like to do business with a brand that has given them an eco-friendly promotional item. People appreciate items that are environmentally responsible, as well as items that are useful and serve a purpose.
Don't Miss Making Important Connections Via Virtual Events
Promotional gifts are a great way to get people enthused before virtual events and long after.
Eco-friendly promotional items can also be used as an incentive to increase attendance.
Let prospective attendees know that if they book by a certain date, they can get a special eco-promotional gift and a reduced price. Or you can incentivize attendees by asking them to answer a survey at end of the event and get a free eco-promotional item.
These eco-friendly promotional gifts are great options for your next virtual event.
Make Memories IRL at Your Next Virtual Event with These 5 Eco-Friendly Promotional Gifts
1. Reusable Bags
The versatility of reusable bags is perhaps one of the biggest advantages of this promotional item. Traditional tote bags can be used for grocery shopping or just about anything.
2. Trade Show Totes
More specialized bags, like messenger bags, insulated cooler bags, or wine totes serve a more exact purpose, which can be helpful and useful. Trade show totes can fulfill a purpose and become a go-to bag for your customers.
3. Seed Paper Items
From business cards to die-cut shapes, full sheets, and more, seed paper items can create a memorable experience. Seed paper items are embedded with seeds and can be planted and given the right conditions, plants will sprout. This creates an engaging and memorable experience.
4. Reusable Drinkware
People can have very specific habits and routines when it comes to beverages. From morning coffee to healthy smoothies custom reusable drinkware is a way to routinely connect with your customers.
5. Eco Promo Items
Custom pens, notepads, and even lanyards are items people use daily that also have the potential to promote your business. Eco promo items can remind your customers about your business as they go about their daily routines.
Let's Get Ready for Your Next Event
Virtual events provide an opportunity to reach out to your customers in real life and create a meaningful connection with eco-friendly promotional gifts.
We have been creating custom promotional items for our customers for over a decade. This is what we're passionate about and we want to help you create the perfect item for your brand.
Shop our entire selection of eco-friendly promotional items for virtual events and trade shows and request your customized quote today.
Tagged