5 Stats on Custom Reusable Bags YOUR Marketing Team Needs to Know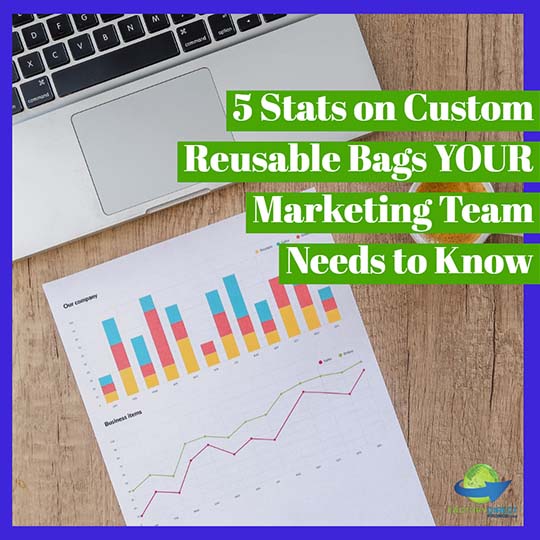 Find Out How Custom Reusable Bags Can Benefit Your Marketing
Getting the word out about your brand can be hard. You need an effective method to reach your audience and you also need to consider the expense. The ideal marketing method should clearly speak to your audience about your brand and serve as a regular reminder. If you are wondering what item could possibly tick all of these boxes, your search is over.
Custom reusable bags are highly effective promotional products that are easy on your budget while delivering proven results. Here are five stats about custom reusable bags to help you understand why you should add them to your marketing lineup.
1. Consumers Love Them!
Studies show 73 percent of consumers own custom reusable bags while 84 percent of baby boomers report owning a promotional bag. This is a staggering number that indicates consumers like using reusable bags and/or have a need for reusable bags. Either way, this is a proven marketing item that your customers will use.
This stat also indicates that a lot of other brands are already promoting their brands with custom reusable bags. Creating your own uniquely branded bags will ensure your name is in the fray and will be seen.
2. Long-Term Impact
On average, consumers keep promotional bags for about 11 months but they will last even longer. That means this investment will continue to pay dividends in the form of impressions for a long time to come. Reusable bags are a smart investment that continues to pay out for an extended period of time.
3. Loads of Impressions
During that time consumers hold on to their reusable bags, the bags will generate about 3,300 impressions. Every time your customers look at their bags they'll think of your brand. Every time your customers use your custom reusable bags while they're out the bags will continue to make impressions.
4. Stunning Return on Investment
All of those impressions help grow your brand, but also help secure a great return on your investment. Lots of factors determine the final cost of your custom reusable bags. The style, material, artwork, quantity and more are all factored into the cost. For example, if your cost per bag works out to $1, and that bag delivers 3,300 impressions over the course of its life, that works out to a price of fractions of a penny per impression.
5. Loyalty
Custom reusable bags help establish a relationship between your brand and your customers. This relationship can deliver serious value. Studies show 50 percent of consumers are more likely to do business with a company that gave them a promotional bag. That means handing out custom reusable bags can directly lead to sales. This makes sense because the bag is a constant reminder of your brand. Your brand will be front of mind as your customers think about making a purchasing decision.
Create Your Own Custom Reusable Bags
Custom reusable bags are definitely something your marketing team needs to create for your brand. Your brand can experience tremendous success when they employ customized bags to promote your brand.
We've been in the business of helping others create custom reusable bags for almost 30 years now. In that time we've earned several distinctions and learned how to streamline the process. Find out just how easy it really is to design your own custom reusable bags by working with us today!
Tagged