5 Creative Ways Your Business Can Kick The Plastic Habit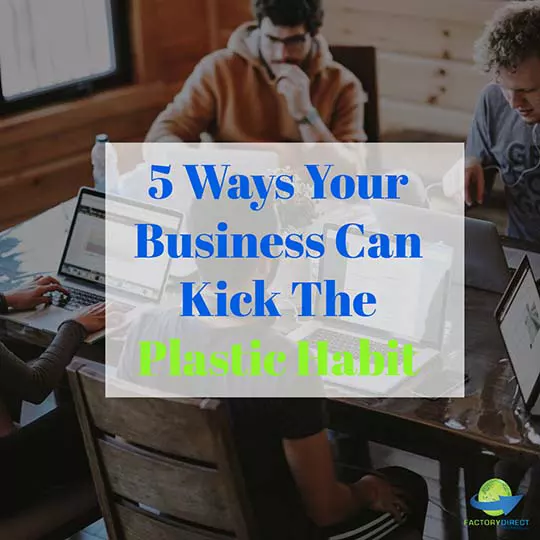 These 5 Tips Will Help Your Business Can Kick The Plastic Habit
Recycling is no longer the dependable solution it once was. It's still important to recycle the plastic and other materials you use, but there are fewer buyers looking to pick up recyclables. This sudden decrease in demand has left many recycling facilities with a surplus of plastics and other recyclables. You can help by doing your part and using less plastic either by forgoing single-use items or looking for durable, reusable alternatives like custom grocery bags for eco-friendly marketing.
Here Are Five Creative Ways You Can Help Your Business Kick The Plastic Habit
1. Green Up Your Trade Shows
Trade shows are historically not very environmentally friendly, but it doesn't have to be that way. There are lots of ways you can implement green practices into your next trade show or event. Reusable promotional items made from recycled or sustainable materials make it possible to promote your brand in an eco-friendly and effective way.
Further, green your trade show booth by utilizing eco-friendly displays and signage. When possible try to reuse items to get the most use out of your materials.
2. How Green is Your Kitchen…Really?
Yes, this one is an easy one but you would be surprised how many company break rooms are still full of plastic. Swap out single-use plastic utensils, plates, cups and more for durable and reusable items. Do not supply styrofoam cups and other disposable items.
Instead, stock your company kitchen with branded items or hand our customized reusable water bottles with your employees' name printed on the bottle. Your staff will appreciate the items and your business will generate less waste.
3. Welcome New Employees with Plastic-Free Promo
As part of your onboarding process for new employees, talk about your company's efforts to use less plastic. This is a great time to encourage new team members to make suggestions to help streamline waste.
You can also hand out customized gear your employees can use to help reduce waste while also promoting your brand. In addition to reusable water bottles, you can also hand out a bamboo or recycled content pen and they're very own custom reusable grocery bags. You will be surprised at how genuinely, excited new team members will be when they receive their eco-friendly reusable gear!
4. Go Reusable with Your Marketing
Make the most of your marketing by opting for customizing reusable items, like custom reusable grocery bags. Reusable bags are great at increasing the awareness and visibility of your brand while also delivering a great return on investment.
Reusable promotional products are also a green way to market your brand because they eliminate the need and use of single-use items. Removing disposable items from the waste stream is green and empowers your employees, clients, and vendors to easily incorporate green choices into their daily lives.
5. Work with Vendors Who Use Less Packaging
Packaging is a major source of plastic and other materials that end up in recycling bins. Depending on the items, the packaging may be necessary, but it may not always be so.
Try to work with vendors who use less packaging. If you have had no success in finding vendors who use less packaging. If you really want to continue working with existing vendors, just ask your current suppliers if they can use less packaging.
Help Your Business Use Less Plastic
Recycling is still hugely important, but finding ways to use less plastic can help lessen the burden on recycling facilities and allow your business to go green. What does your business do to use less plastic? Let us know in the comments!
Are you interested in designing your own reusable bag? We've streamlined the process so you can easily create something unique and eco-friendly to promote your business. Design your custom bags now!
Tagged