Here's The Best Way to Recycle in Your Apartment!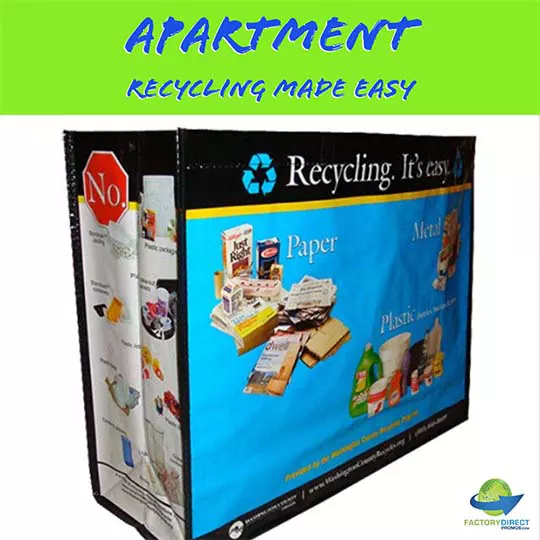 An EASY to Implement Recycling Program Begins with The Bag…
Recycling is simply repurposing existing materials that have fulfilled their purpose into new and useful items. Recycling conserves energy and resources, but it isn't always easy to recycle. People who live in apartments know this to be true, but that's about to change. Here is how you can use reusable recycling bags to recycle in your apartment.
Importance of Recycling
Recycling keeps trash out of landfills. Certain items, like plastic, glass, and metal, do not belong in landfills because they will just sit there and take up space. Other materials, like cardboard packaging, magazines and more can be recycled and prevent the use of virgin resources being used for the creation of new products.
Easy Solution
Recycling in apartments is tricky because there has typically not been an easy way for tenants to round up recyclables to easily bring items to a bin or dumpster for collection. Reusable recycling bags provide a solution. These bags are compact, so they are not in the way when they're not needed. However, everything about the design makes these bags useful when they are needed.
Benefits of Reusable Recycling Bags
Reusable design enables these bags to be used for a long time.
Dual handles for easy and comfortable carrying. The handles also enable the bag to be hung from a hook, coat rack or even a doorknob.
The bottom handle makes it easy to empty the contents of the bag into a collection bin or dumpster.
The durable material will hold up under normal use and is also water-resistant to contain any spills or messes.
The design is customizable and the fabric accepts full-color printing, allowing the bag to feature instructions and other useful info to aid in recycling.
Steps to Apartment Recycling
Starting your own apartment recycling program is easy. It involved a bit of work, but if you follow these three simple steps you can be on your way to recycling in your apartment.
1. Talk to Management
The first thing to do when starting an apartment recycling program is to speak with management. Ultimately, management will have to implement the program, so it is important to work with this team from the beginning. Be ready to talk about the benefits of recycling and how reusable recycling bags provide a viable solution.
2. Establish a Collection Point
Your apartment will need dedicated bins or a dumpster for tenants to fill with their recyclables. You can reach out to your waste management company, garbage hauler or municipality, depending on how garbage pickup is handled in your town or city.
This may be a task your property manager is better able to handle. You will definitely need to include your management team in on this process, so they can set aside an area for the dumpster or bins to collect items for recycling.
3. Design Reusable Recycling Bags
Reusable recycling bags were designed to function and make recycling easy. However, everything about the bags can be customized. Change the size, handles or anything else. The exterior of the bag can be customized with unique artwork to further help tenants.
Include lists or charts breaking down what items can be recycled. Include contact into directing customers to a local waste management company or a city or county website that can answer recycling questions tenants may have.
Create a Recycling Program in Your Apartment
Recycling has a positive impact in your complex or building, as well as in your community which can make a difference all the way up to the global level. Starting a recycling program in your apartment takes some planning and coordination, but it is easy when you follow these simple steps.
If you want to learn more about reusable recycling bags and find how to customize bags for your apartment then reach out and we can help. We are passionate about recycling and sustainability and we work hard to help our customers go green!
Tagged