What Are Reusable Recycling Bags?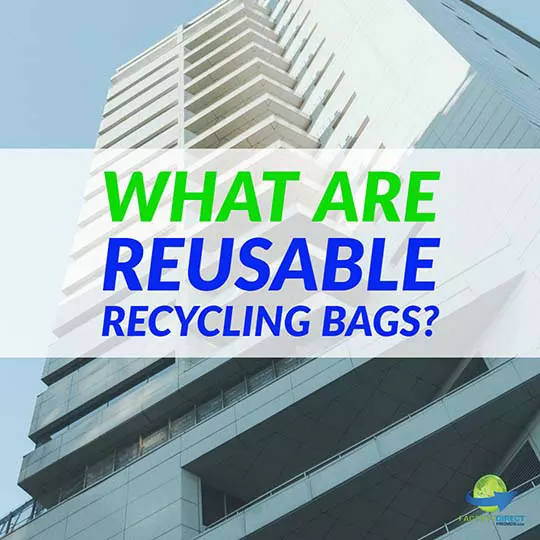 Reusable Recycling Bags Are A Game-Changer for Multi-Family Recycling
Reusable recycling bags are exactly what they sound like; reusable bags used to collect items for recycling. Recycling rates in multi-family units like apartments, dorms, and condos are typically low for a variety of reasons. While saving money and helping the planet in the process, these simple bags address the problems inherent to many apartment building recycling programs.
Studies have shown recycling rates increase up to 77 percent in three years after implementing reusable recycling bags. Learn more about what reusable recycling bags are, how they work and why you should begin with the bag.
Easy Solution
Reusable recycling bags work in just about any type of home that does not have an effective curbside recycling program in place. Apartments, condos, dorms and other types of multi-home dwellings can all benefit from reusable recycling bags. These bags take the place of bulky bins common to curbside recycling programs.
Saves Space
The compact size of these reusable recycling bags takes up less space than bulky bins. The large plastic bins are necessary for curbside recycling programs, but they are just too big for use in multi-family units like apartments. Reusable recycling bags make it easy to round up and collect recyclables without taking up a bunch of space and getting in the way.
The dual handles make it easy to hang these bags from a doorknob, hook, coat rack or anyplace nearby, so they are always handy. When not in use the bags can be folded flat and take up barely any space.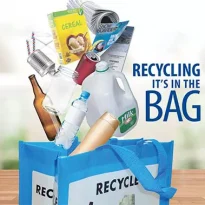 Durable, Long-Lasting Material
Our reusable recycling bags hold up under regular use for several years. The laminated finish is waterproof, so if food residue or water from recently washed recyclable containers spill in the bags the mess is contained. The smooth finish is stain-resistant and easily wipes down for quick cleaning.
Reusable recycling bags are made from recycled content so they are good for the planet. These bags can also be recycled, so when they eventually wear out they can be recycled into something new and useful.
Convenient
The dual handles that are great for hanging these bags and are also comfortable to carry. Tenants can even sling the handles over a shoulder for hands-free carrying. The Sure Grip handle on the bottom makes it easy to completely empty the contents of the bag into a collection receptacle.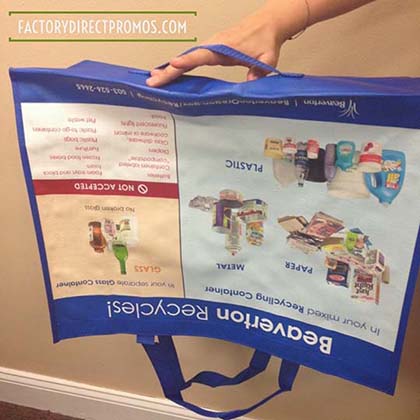 Those that benefit from using reusable recycling bags extend beyond tenants. Both public and private waste haulers, cities, municipalities, property managers and more benefit from these bags. Recycling is becoming mandatory in many areas, and these bags facilitate recycling efforts while also providing a cost-effective solution.
Fully Customizable
Everything about these reusable recycling bags can be customized. We can print unique artwork in full color on the bag to answer common recycling questions, provide contact information and anything else you want to relay to your tenants.
The design of the bag is also customizable. We selected the material and designed the bag to maximize function, but if you have ideas to improve the function we can make that happen. Swap out the material, adjust the handles or do anything else you want to make the bag look and function as you intend.

Begin with the Bag
We have been in the custom reusable bag business for almost 30 years, and during this time we have accumulated a variety of honors and distinctions, including GOTS, Fairtrade, ISO 9001-2015 and FEDEX. All of these certifications speak to our commitment to quality and sustainability. We work hard to create reliable and dependable products that represent our customer's brands and help promote their cause. Find out just what reusable recycling bags can do for your complex or facility by reaching out!
Tagged