Help Your Customers Remember Their Reusable Bags and Help The Planet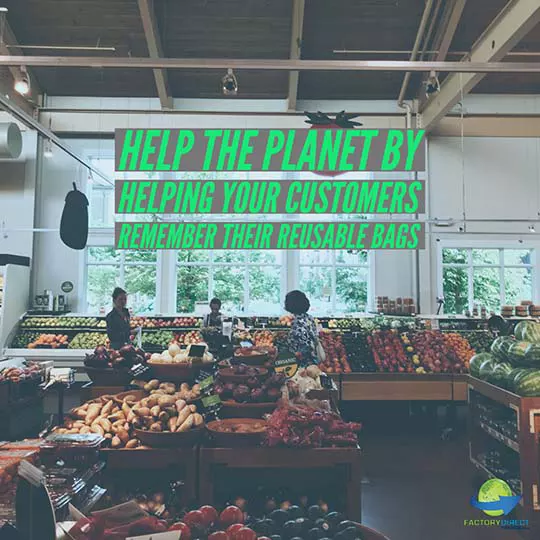 Here's The Help Your Customers Need to Remember Their Reusable Bags
January is all about a fresh start. For many people, that means establishing resolutions or goals and making this the year you finally get your act together and follow through on them. Implementing changes in your life can be easy if you go about it the right way. Follow these science-backed tips to help your customers remember their reusable bags. This will, in turn, help deepen and strengthen your relationship with your customers and keep you front of mind.
1. Break It Down
Make it simple for your customers to start remembering their reusable bags. What are some simple ways that you can help them remember? For example, a great way to start small would be to, add a simple message on receipts that serves as a reminder to your customers to remember to bring their reusable bags the next time they shop.
Or offer one of your custom reusable bags for free with purchase for a limited time with helpful reminders on how to remember their reusable bags printed on the bag. If you have an email list, add the simple reminder there as well and share the reminder on social media.
2. Embrace Snappy Rewards
Offer a discount each time your customers shop and use a reusable bag. Something like 5-cents or maybe even 10-cents off per bag can be enough of an incentive to help your customers remember their reusable bags.
A twist on this idea is to offer a larger discount if your customers use one of YOUR custom reusable bags. For example, maybe you offer a 5-cent discount for each reusable bag your customers use, but that discount increases to 25-cents per bag if they use one of your branded bags.
Shoppers will remember their bags because they want the discount, but when they use your custom branded bag they will help spread the word about your business.
3. Prime Your Environment
Put up signs outside your building reminding customers to bring their reusable bags into your store. Add images to your in-store advertising that shows people using your reusable bags. This simple reminder as shoppers get out of their vehicles and make their way inside can trigger a reminder.
4. Plan to Fail
Establishing new habits takes time and things don't always work out as intended every time. Have a space in the store designated for carts to sit for 5-10 minutes so people can go outside and grab their bags. Make sure the area is labeled so shoppers know they can leave their carts there. Providing this courtesy is a thoughtful way to help your shoppers get this new habit down pat.
Help Your Customers
Reusable bags are an eco-friendly marketing tool that effectively promotes your brand. Encouraging your customers to use reusable bags help the planet while also increasing awareness around your brand. Whether you need a small order of 250 bags or a large order of 10 million or more, we have simplified the process to make it easy for you to design your very own custom reusable bags.
Our certifications include GOTS, Fairtrade, ISO 9001-2015 and FEDEX. These distinctions are all testimony of our strong quality and social commitment. Create your own custom reusable bags HERE to help your customers, the planet and promote your brand!
Tagged