Spectacular Summer Promotion for Your Marketing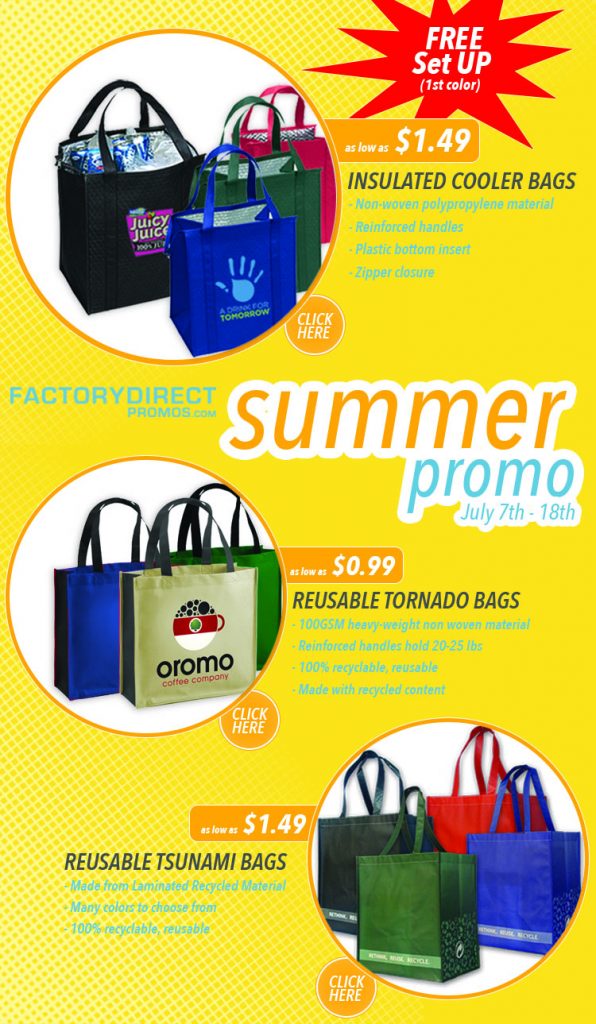 Kick Up Your Marketing with Our Summer Eco-Promotion
We just kicked off a spectacular summer promotion that makes it easier than ever to get customized reusable bags into your customers' hands for successful marketing ROI. There is a lot of value to marketing your brand with a reusable product – every time your customers carry your branded bag they reinforce their connection with your brand, but they also spread your marketing message to their family, friends, coworkers and even complete strangers. By carrying your branded reusable bag your customers increase your brand recognition and ensure you receive an amazing return on your investment.
The Details
Select either our cooler bag, reusable tornado bag or reusable tsunami bag and enjoy free set up for the first color (additional fees apply for multiple colors). This offer is valid July 7 – July 18. Read on to learn more about our summer promo and how you can put a customized reusable bag to work marketing for your brand, business, or event.
Keep Cool with Our Insulated Cooler Bags
Starting as low as $1.49 per bag, our reusable insulated cooler bags are constructed from a non-woven polypropylene material that delivers long-term use and helps keep cold items chilled. The reinforced handles are comfortable to carry and the plastic bottom insert evenly distributes the weight, so items don't tip and the bag does not sag. Zipper closure secures the bag, keeping everything contained.
Our insulated cooler bag is great for toting frozen food home from the grocery store or chilled dishes to a summer picnic. It also pulls double duty and can be used to keep hot dishes warm during transport.
Reusable Tornado Bags Put Your Brand In Your Customers' Hands
Made from a durable 100 GSM heavy-weight non-woven material our reusable tornado bags deliver years of dependable use which means your brand will be put on display for a long time (and you'll receive an incredible return on your investment). The reinforced handles hold 20 – 25 lbs., so a large grocery run, even of a Thanksgiving caliber, is no match. Our reusable tornado bags are 100 percent recyclable and reusable, so these bags are good for your brand and the planet.
Get Noticed with Reusable Tsunami Bags
Coming in at a low $1.49 per bag, our tsunami bags are great to use as reusable shopping bags or to carry items to work or the gym or really for anything. Our tsunami bags are made from a laminated recycled material which comes in a wide array of colors, so you can find the shade that best fits your brand and they are also 100 percent recyclable and reusable, so these bags align with your company's environmental goals.
Select Your Bag and Make It Your Own
Whichever bag you choose can be customized – select the color of the bag and the ink, have your message printed and create a reusable bag that represents your brand.
Select from our insulated cooler bags, reusable tornado bags or reusable tsunami bags and get free set up for the first printing color from now until July 18!
If you have questions or if you're ready to get started, fill out a quote request form HERE and our team can help you get started marketing with reusable bags.
Tagged