Get Ready for Spring Trade Shows … Now!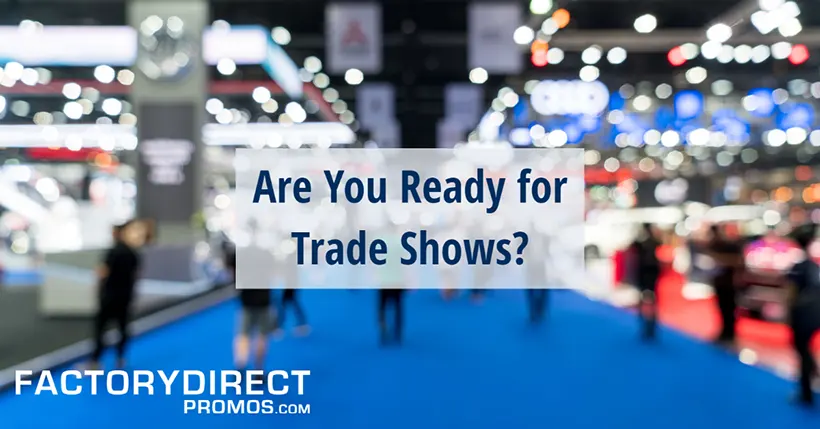 Do you have a trade show or event coming up in the New Year? If you do, now is the time to think about takeaways. A trade show takeaway is a custom item emblazoned with your marketing information to ensure customers and vendors remember your brand long after the event ends. We explain why now is the perfect time to order and help you select some of our top products that will make a good impression.
Stand Out
Trade shows are about meeting new people and reconnecting with old acquaintances. These bonds drive business. A trade show takeaway is a simple item that bears your branding info and will be a regular reminder of your business.
A thoughtful, well-made promotional item will leave a good impression and show attendees you care. Attendees will remember your brand as they use your branded gear, and this familiarity is important when it comes time to make business decisions.
Timing Is Everything
The sooner you place your order, the sooner you'll have your items in hand. Everything takes longer, and while our team works to ensure items arrive as soon as possible, unexpected roadblocks may add time to turnarounds. We work directly with our factory to streamline the process. Not only does this keep costs down, but it also saves time. With that said, we recommend placing orders as soon as possible so that you'll still receive your items in time if the unexpected happens.
You're not the only one ordering promotional items, so being early can pay off. A lot of orders come in at the start of the New Year, so placing orders now means you'll be ahead of everyone else, and you will not get caught up in the rush.
Top Sellers
The product you choose is essential. The right product for your brand needs to be something useful that your customers need and can put to use. Here are some of our best sellers to help you find the right product for your brand and your customers.
Reusable Tornado Bags
Our Reusable Tornado Bags are certified, which means they're built to exact specifications and will hold up under regular use. The dependable design means your customers will be able to use the bags with confidence and you'll get a great return on your marketing investment.
Custom Bags
Let your creativity take over with our custom bags. While all of our bags can be customized, our custom bags take things to the next level. Instead of simply printing your branding info on the front or making a small tweak to the design, you can completely design this bag to be exactly what you want.
Stainless Steel Tumblers
Our insulated mugs are great for coffee or tea, or any beverage. The lid makes it easy to take a drink on the go without making a mess. Our 16-ounce tumblers can easily be customized with your logo and marketing info, so your customers will think about your brand with every sip.
We're Here to Help
Designing custom gear can seem like a big task, but we make the process easy. Choose from our in-stock products if you need your items quickly, or take advantage of our custom and bulk ordering to secure a low price while enjoying a high degree of customization.
Place Your Order
Custom reusable products are helpful, in demand, and eco-friendly. We offer a wide selection of reusable bags, tumblers, and other products that can all be customized to showcase your brand. We've been helping our customers create custom reusable bags for over a decade, and we want to help you, too!
Call us at 866-222-0949 or shop our full line of eco-friendly promotional items and get your custom quote.