What Is The Difference Between In-Stock Vs. Custom/Bulk Reusable Grocery Bags?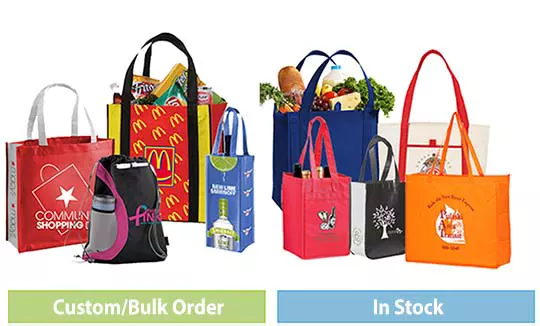 Answers to Common FAQs to Help You Pick the Right Reusable Bag
We recently received a question from a prospective customer about the difference between In-Stock and Custom/Bulk orders, and we thought it was a great question that others might have, too. There are a lot of factors to consider when choosing the right custom reusable grocery bags for your brand. We want to make the process as easy as possible, so here is an explanation for some common questions.
What Do You Mean by In Stock Vs. Custom/Bulk?
We have a production facility where we maintain an inventory of already assembled bags. This is what we mean when we say 'In-Stock.' If you want to order reusable grocery bags featuring an existing design and simply print your logo or branding information directly on the bag, then In-Stock is the way to go.
Our completely custom reusable bags are produced from scratch at our factory. If you want to customize the size, trim, handles and overall design of your reusable grocery bags, your order will go through our manufacturing factory. Customizing the design of your reusable grocery bags means you want something that differs from our regular lineup of bags. Maybe you want to increase the depth, add pockets, or a headphone port, or a zipper, or increase the length of the handles, or anything else you can think to do.
Are there Difference in Production Time and Delivery Time?
The advantage of ordering in stock bags is the quick turnaround. Since the bags are already assembled, we can quickly and easily print your artwork directly on the bag, and ship them to you. From the time your order is confirmed we need 5 – 7 days to turn around the order, and we only require an order of 250 bags. If you have an event in a couple weeks we can have your custom reusable bags ready in time.
There is a longer turnaround period for completely custom bags of 60 – 90 days. Since the bags have to be manufactured and printed, it takes longer until the finished product is available. Creating custom reusable grocery bags require a higher minimum order of 1,000 bags. When manufacturing something custom, you need to order a higher quantity for it to be cost effective. It is also worth pointing out that the higher the quantity ordered, the lower the price per bag. You are securing a better deal when you stock up.
Decide What You Need and Place Your Reusable Grocery Bags Order
With two ways to order reusable bags, it can be confusing to know what is the best fit for your brand. It comes down to how quickly you need your reusable grocery bags and what level of customization you want.
Feel free to contact us and ask for samples of our reusable grocery bags or get a quote. After more than 20 years manufacturing eco-friendly, reusable bags, we know how to make the process easy for you.
Tagged