2023 Promotional Products Holiday Gift Guide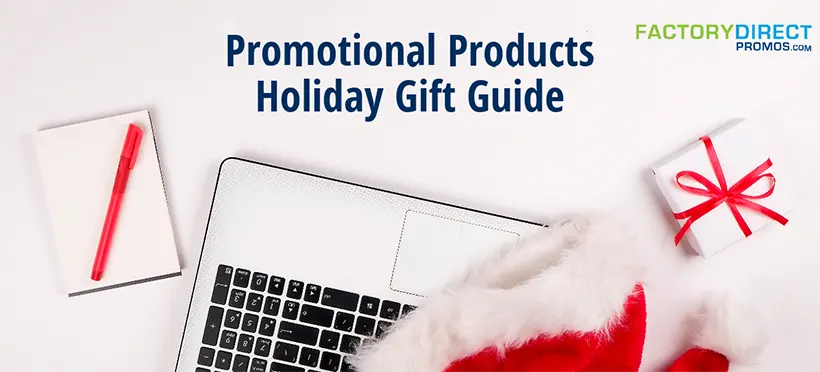 The holiday season is fast approaching, and while it seems crazy to start thinking about corporate holiday gifts well before Halloween, now is the perfect time. Give thanks and show appreciation to your customers, vendors, and team members with thoughtful holiday gifts that also work to promote your brand. Creating custom corporate holiday gifts is easy, and we're here to help you pick the right items.
Timing
The holidays are still a ways off, but ordering now ensures you'll have your custom promotional items with plenty of time to spare. The delays we were experiencing several years ago have lessened, but getting your order in early ensures you will have your items in hand and be ready to go if anything unexpected crops up.
Another benefit of early ordering is ensuring you get your gifts to your recipients. People often take time off around the holidays, so waiting until late December to hand out gifts may not go as planned. It's more likely you'll be able to connect with people earlier in December or possibly even November, so you can make sure your corporate holiday gift gets into the right hands. The sooner you gift your promotional items, the sooner they get to work, so getting a head start on spreading holiday cheer can pay off.
The Power of Promotional Products
Promotional products effectively build relationships with customers and team members and turn these individuals into brand ambassadors. People like receiving gifts, and they will have a positive association with your brand when you give them a custom promotional item. Our promotional products are easily customizable with your logo, business name, website, message, contact information, or anything else you want to convey.
Choosing the Right Promotional Products
Moreover, branded promotional products that are useful and functional are more likely to be used. The more often your clients use your branded gear, the more exposure your brand will receive. Selecting the right promotional product makes all the difference, so take the time to understand your customers and what they want and need.
Top Promotional Products for the Holiday Season
There is value in promoting your brand with reusable promotional products. We've rounded up some of our most popular and in-demand items, making it easy to show your customers, prospects, vendors, staff, and anyone else who matters that you appreciate them.
Desk and Office Items
Notepads are handy for anyone who writes reminders, takes notes during meetings, or leaves notes for others. Custom notepad and pen combos make it easy for your customers to take notes. These notepads are made from recycled content, so they are eco-friendly and a smart choice for promoting your brand.
Apparel is another option that provides a bit of style while spreading your brand's message. Customized company apparel keeps your brand front and center whenever it's worn and is a thoughtful gift because it is the sort of thing people often happily wear in support of your brand.
Drinkware
Most people have a favorite morning drink, whether it be coffee or tea. A stainless-steel tumbler makes it easy for your customers to take their morning drink to go so they can enjoy it during their commute or when they arrive at the office.
If your clients are more about ensuring they drink enough water during the day, consider these 28-ounce water bottles. The flip straw makes it easy for your customers to sip their beverage of choice while also displaying your branding message.
Reusable Bags
Reusable bags are a tried and true favorite as a gift bag and then double for lots of other uses. Reusable tote bags can be used to carry items to and from work, the gym, or as grocery bags, just about anything. The large imprint area ensures your message is noticed, and recycled content ensures these promotional products align with your brand's environmental goals.
Creative Ways to Present Promotional Gifts
Take your gift-giving to the next level by creating a custom gift bag full of goodies your customers or team members will enjoy. A custom reusable bag will work as a gift bag that can be repurposed as a shopping bag after the holidays. Using a reusable bag as a gift bag also reduces the need for wrapping paper, saving money, and cutting down on trash.
Get in the Holiday Spirit
Planning ahead will save you time in the long run and ensure you can enjoy a stress-free holiday season because you'll be all set. Custom promotional products are cost-effective and eco-friendly and establish meaningful bonds with clients, vendors, and team members. If you are interested in using promotional products for corporate holiday gifting, then get in touch. We've been helping our customers create custom products for over a decade, and we want to help you, too!
Call us at 866-222-0949 or shop our full line of eco-friendly promotional items and get your custom quote.
Tagged