How Branded Products Help Your Team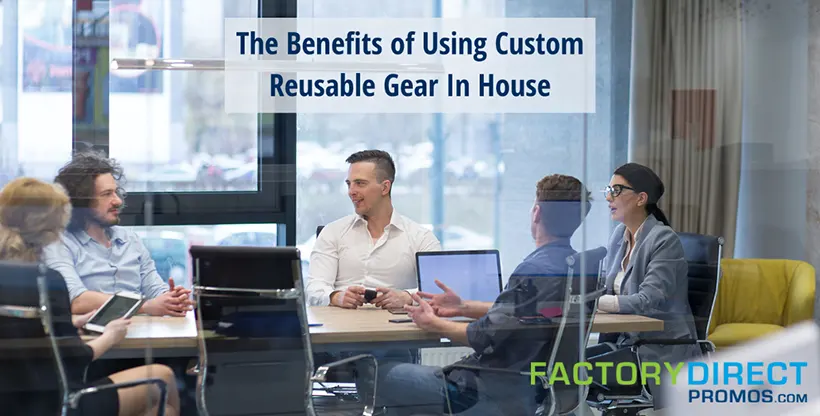 The Benefits of Using Custom Reusable Gear In House
When your planning to have a booth display at an event like a trade show, you consider takeaways and swag like custom-branded reusable bags, travel mugs, and pens. Branded promotional products make it possible for your customers and team members to represent your brand which provides a lot of marketing value. Custom reusable gear constantly reminds you of your brand and helps establish and increase your brand's awareness. While gifting your customers with branded gear is practical, giving your staff custom items is also beneficial and allows your team members to represent your brand.
Team Building
Creating custom reusable products for your team members is a great way to engage your staff and allow them to show their company pride. Providing branded gear like corporate apparel is a thoughtful gesture, and team members will appreciate that you took the time to select something useful and practical.
The branded item is also an opportunity to practice what you preach regarding the company's values and culture. Reusable items like shopping bags and travel mugs reduce the need and use of disposable products. If your company strives to reduce its footprint and make environmentally responsible decisions, reusable products made from recycled content are an excellent way to align with its objectives. Consistency shows team members that you are serious about going green and helping them do the same.
People Like Free Stuff
Everyone likes getting a free gift, even if it is a small token of appreciation. Custom lanyards or travel mugs are commonly used items your staff will use. The more these items are used, the more exposure your brand receives. Using branded items at the office will help establish a work culture, but when team members use branded gear outside of work, they'll share your message with a broader audience.
Your team members will send two messages when they use your branded reusable products outside of work. In addition to spreading your marketing info, they'll also send the message that your company is an excellent place to work. When someone is representing their place of employment and willing to be reminded of work when they're not there, that's a sure sign that it is a good environment.
Create Your Custom Branded Swag Today
Reusable bags, travel mugs, notepads, and pens make excellent promotional items because they are useful and practical. Our reusable products are designed to function while promoting your brand. We've been helping our customers create custom reusable bags and more for over a decade, and we want to help you, too!
Call us at 866-222-0949 or shop our full line of eco-friendly promotional items and get your custom quote.