Why You Need Brand Ambassadors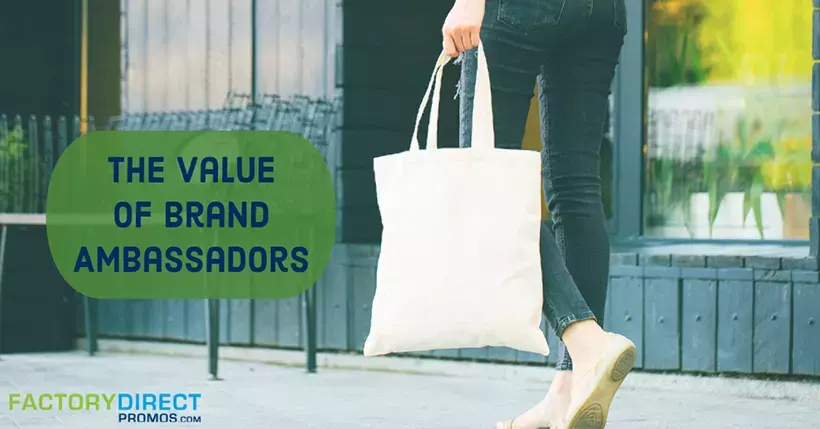 The Value of Your Customers Vouching for Your Brand
Loyal customers who continue to frequent your business are assets, but those customers can do so much more for your brand. Promotional marketing items are always effective, but branded gear can introduce your business to new customers when in the right hands. Find out why you need brand ambassadors and how promotional products can help.
Create a Bond
Custom promotional products allow customers to experience a brand. Writing a note with a custom pen or carrying groceries in a reusable shopping bag are subtle ways a person can interact with a brand. Customers will appreciate the actual item and the thoughtfulness of selecting a useful promotional item.
When selecting promotional products, you have plenty of choices, you could select the first thing you saw or the least expensive item. But going with something that is useful and appeals to your customer base shows that you value your customers. Gifting your customers branded gear is a small gesture that can have a big impact.
Organic Growth
Promotional products work by reminding your customers about your brand, but also, as your customers use your branded gear, they will display your message to a larger audience. These reminders give your brand exposure, which can be very valuable. Your customers likely know other people in your demographic, so when they use your promotional items, they are positioning your brand in front of potential customers. Your marketing message is only effective when it connects with your audience, so getting members of that audience to share your info and vouch for your brand is significant.
People would not use a water bottle or tote bag from a brand they do not like, so when your customers are out and about using your gear, they are sending a message that your brand is reputable, legit, and worthwhile.
More Important Than Ever
Promotional products have always been important, especially for trade shows and events. Virtual and hybrid events emerged as a solution during the Coronavirus pandemic, and they're here to stay. Custom swag is still a great way to connect with customers, especially those attending remotely. Sending remote attendees branded gear will get people excited about the event and help entice people to sign up early if they know that's what they need to do to receive a gift package.
Remote attendees appreciate branded items and the effort to make them feel included. Making your customers feel valued is a big step toward turning those individuals into brand ambassadors.
Create Something for Your Brand Ambassadors
The right gift will connect customers and form a good relationship with your brand. Once customers have a strong bond, they'll become brand ambassadors. Promotional products are good on their own, but when you have actual customers out there promoting your business, that is how your brand grows and gets to the next level.
Let us know if you are ready to create your next promotional product or if you have questions about selecting the correct item for your brand. We have worked with many industry leaders, including American Express, Bank of America, Carnival Cruise Lines, Pepsi, The Home Depot, Whole Foods, and more. We want to help you, too.
Call us with any questions at 866-222-0949 or get your customized quote on any of our reusable items for marketing and retail use.
Tagged