The 5 Best Reusable Grocery Bags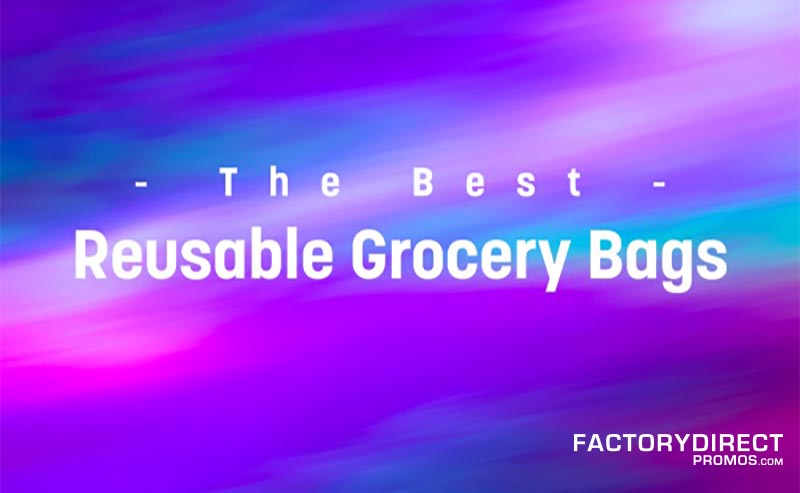 How Certified Reusable Bags Help Your Customers and Brand
Reusable grocery bags are becoming more common. Some shoppers switch because they want to use less disposable plastic and others go reusable because single-use plastic bags are no longer an option. Whatever the reason, shoppers need reusable bags. Reusable bags provide an effective way to serve and connect with your customers, but where do you even start when it comes to selecting the right reusable bag? We make it easy and break down the best reusable grocery bags so you can find the right bag for your brand.
Understanding Certified Reusable Bags
Well-made bags stand up to regular use and provide dependable results. This is good for your customers because they can confidently use your branded bags. Another perk of high-quality reusable bags is that your customers associate quality construction with your brand. Well-made bags are good for your business because they last, and the longer they last, the more use your customers will get from them.
All manufacturers will tell you they have well-made products, but there is one way to know that you are purchasing quality reusable bags, and that's to select Certified Reusable Bags. CalRecycle is a government agency in California that has established the guidelines around Certified Reusable Bags, and it's not just the bags that are certified. Manufacturers must go through a vetting process (we're approved).
The requirements for a bag to earn the distinction of being Certified Reusable include:
It must have handles.
Must handle at least 125 uses.
Be able to accommodate at least 15 liters or about four gallons.
Must be machine washable or able to be cleaned and disinfected.
The bag must be labeled with the manufacturer's name, country, explanation that the bag is reusable for at least 125 uses, and recycling instructions if applicable.
Find the Best Reusable Bag for Your Brand
Certified reusable bags provide peace of mind and return on investment. Selecting a certified reusable bag serves your customers and your brand. Here is a roundup of some of our top-selling certified reusable bags, all of which can easily be customized to represent your brand.
1. Custom Grocery Bags
Select the eco-friendly material and start designing your custom grocery bags. These bags are made to order, so your bag will be unlike any other and truly represent your brand. Our custom grocery bags support full-color printing on all sides, so you can take your artwork to the next level and ensure all eyes will be on this bag when your customers head to the store.
2. Custom Non-Woven Reusable Bags
Take advantage of a high level of customization and bulk pricing with our custom non-woven reusable bags. Choose the material, size, handle options, and more to tailor this bag to your specifications.
3. Tornado Bags
These are our economical—aka 'cheap'—reusable shopping bags. Contrasting gussets give them a sleek appearance, while the slim design allows for comfortable carrying options without sacrificing space. The reinforced handles can support up to 25 pounds.
4. Hurricane Bags
These bags are our workhorse line of bulk reusable grocery bags that can easily be taken on weekly trips to the grocery store. The 120GSM recycled content material is reinforced at the bottom and handles to support heavy loads, and bulk pricing ensures you can secure a lower price per bag.
5. Ecolife Insulated Tote
The thermal film-insulated interior ensures frozen items make it home without thawing or melting. The 13″x15″x10″ (W/H/G) interior capacity of our Ecolife insulated grocery totes provides plenty of space. Zipper closure keeps items secure, and a large exterior pocket is a convenient spot to stash a list, shopper's club card, or other items.
Create Your Reusable Grocery Bags
Reusable grocery bags make excellent promotional items because they are helpful and in demand. Our selection of certified reusable bags can handle regular use while promoting your brand. We've been helping our customers create custom reusable bags for over a decade, and we want to help you, too!
Call us at 866-222-0949 or shop our full line of eco-friendly promotional items and get your custom quote.
Tagged