Reusable Shopping Bags for Retail Built to Last…Create YOUR Best Bag!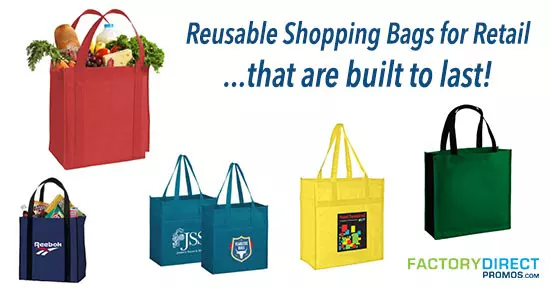 Make a Difference with Your Marketing
Reusable shopping bags matter so much these days to consumers so your retail business needs to be proud of your reusable bags. Are your retail bags the best? Are they eco-friendly and built to last so they will have a positive impact on the planet and your brand?
Find out how our clients make a difference with their custom reusable bags and how you can do the same!
Create your best bag for retail. Here's how.
Get Out and Go Green
Going to the store has become an event for many people. After spending so much time apart and still exercising caution when out and about, taking care of routine shopping carries more significance. There is also an increased interest in going green.
People want items that are reusable or sustainable and they want to limit their environmental impact. Single-use plastic bags are unlikely to be recycled, so the environmental impact can be very damaging.
Many municipalities are also banning plastic bags, so whether it's their choice or not, a lot of shoppers need reusable grocery bags.
Going shopping now is an experience and reusable bags are even more a part of that experience than they were before.
Easy Ordering
You can order your way when you work with us.
We have a selection of in-stock bags that simply need to be updated with your custom artwork and they're good to go.
We also offer custom and bulk ordering. In this instance, your bags will be made to order so you can enjoy a greater level of customization and wholesale pricing.
Completely Custom
You can create something totally custom. Alter the design to fit how your customers will use the bag or make a visual and memorable impact.
We offer different types of materials, like woven and non-woven polypropylene, jute, and cotton, so you can find the right look and feel for the message you want to convey.
When designing your custom reusable shopping bags, you can swap out the material, change the size or the length of the handles, add pockets or closure and get creative with your artwork. You can create something exciting for your community, brand, or message.
Versatile Applications
Custom reusable bags can be a profit center and sold. They can be used for a PR takeaway which will show your community you care! Give away bags to those in need or give away bags at events your brand attends or sponsors.
However you end up distributing your custom bags, they will be out there spreading your branding message for MANY years to come.
Designed to Last
Promotional products like reusable bags are effective because they are visible, but our reusable bags are also effective because they are built to last.
Working with us means your retail outlet will be able to build the BEST bag for your customers and your retail business.
Quality materials and durable construction mean the bags can handle regular use and under normal conditions will last for many years. Many of our reusable shopping bags are also certified reusable, for added assurance and peace of mind.
Well-made bags will do a much more thorough job of promoting your brand, but they also speak to your brand's commitment to your customers. Ensuring your reusable bags are of the highest quality, shows your customers that you value them.
Create Your BEST Bag
We have worked with so many amazing customers and while each bag is different and unique, they all have a few things in common: they are eco-friendly and very visible and effective promotional items.
We sell bags in quantities from 250 to the millions and we have worked with many industry leaders, including American Express, Bank of America, Carnival Cruise Lines, Pepsi, The Home Depot, Whole Foods, and more.
We want you to be our next customer!
Create YOUR best bag! Shop our full line of reusable shopping bags and request your custom quote today!
Tagged