10 Quotes to Celebrate Earth Day!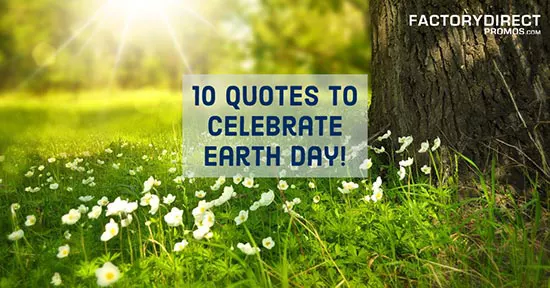 Find Inspiration to #GoReusableNow
Earth Day started out with the goal of educating people about environmental issues in an effort to enact change. And that is exactly what has happened each April 22 for the last 51 years.
While a lot of progress has been made, there is still more work to be done. We believe that sometimes finding the right words can lead to inspiration and make it possible to take on change and make a difference.
With this in mind, we've rounded up 10 quotes about Earth Day, or just words that generally celebrate our shared home, Earth!
"What's the use of a fine house if you haven't got a tolerable planet to put it on." — Henry David Thoreau
"Never doubt that a small group of thoughtful, committed citizens can change the world; indeed, it is the only thing that ever has." — Margaret Mead
"The environment is where we all meet; where we all have a mutual interest; it is the one thing all of us share." — Lady Bird Johnson
"Keep close to Nature's heart…and break clear away, once in a while, and climb a mountain or spend a week in the woods. Wash your spirit clean." — John Muir
"Nothing is more beautiful than the loveliness of the woods before sunrise." — George Washington Carver
"This land, this water, this air, this planet – this is our legacy to our young." — Paul Tsongas
"You cannot get through a single day without having an impact on the world around you. What you do makes a difference and you have to decide what kind of a difference you want to make." — Jane Goodall
"An understanding of the natural world and what's in it is a source of not only a great curiosity but great fulfillment." — David Attenborough
"Look deep into nature, and then you will understand everything better." — Albert Einstein
"The Earth is a fine place and worth fighting for." — Ernest Hemingway
Go Green for the Planet
We are passionate about helping the planet and we want to help others do the same.
Reusable bags are environmentally friendly because they reduce the need and use of single-use plastic, which is very likely to end up in landfills or as litter.
Disposable plastic is bad for the planet and can damage ecosystems and even have an impact on the food chain.
Reusable items, like grocery bags, break this cycle and make a difference.
When reusable bags are customized with your branding information, they also make excellent and effective marketing tools. With more and more municipalities passing single-use plastic bag bans, there is a great need for reusable shopping bags.
We want to help you create custom reusable bags that will make a difference and help the planet while also helping your customers, your brand, and the planet.
We wish you a Happy Earth Day! Stay connected and find out when green news breaks or when we offer an Eco Special or find more inspiration to celebrate the planet not just on Earth Day, but every day when you sign up for our newsletter.