How Reusable Recycling Bags Improve Recycling Rates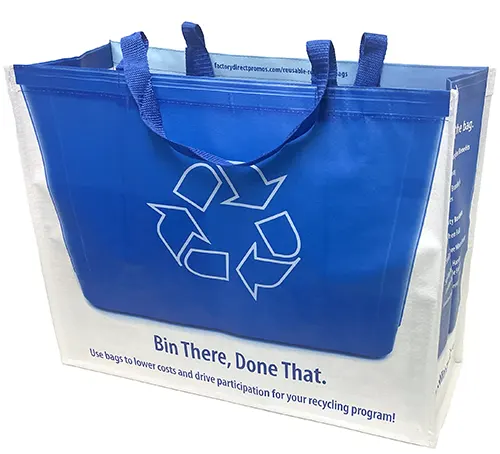 Most Americans support recycling, but only 35% of people in the U.S. recycle. Moreover, most households only recycle about half the recyclable items that pass through their doors, with the rest ending up in the trash. These are staggering numbers, but there's a solution to simplify recycling in apartments, dorms, and other multi-family dwellings.
Stumbling Blocks
One of the main reasons people don't recycle is it isn't convenient. Either there isn't a program in place, or there isn't an easy way to participate in the recycling program.
Another reason people don't recycle is they aren't sure what can be recycled. Regulations can differ from one municipality to another, and these regulations aren't always made clear. Most people want to recycle, but it has to be easy, so clear communication around what can and, perhaps more importantly, what cannot be recycled is vital.
These stumbling blocks are even more significant for people living in apartments, dorms, or any similar type of facility. Most single-family homes have curbside recycling, which is easy to participate in. Curbside recycling programs do not always make it easy for residents to know what they can throw in their bins, so a lack of understanding and education is still a hurdle for homeowners.
Easy Recycling Solution
Ease of access and clear communication are two ways to drastically improve recycling and help keep materials that still have value in use. Reusable recycling bags remove these most common stumbling blocks and make recycling easy, especially for people living in apartments and multi-family dwellings.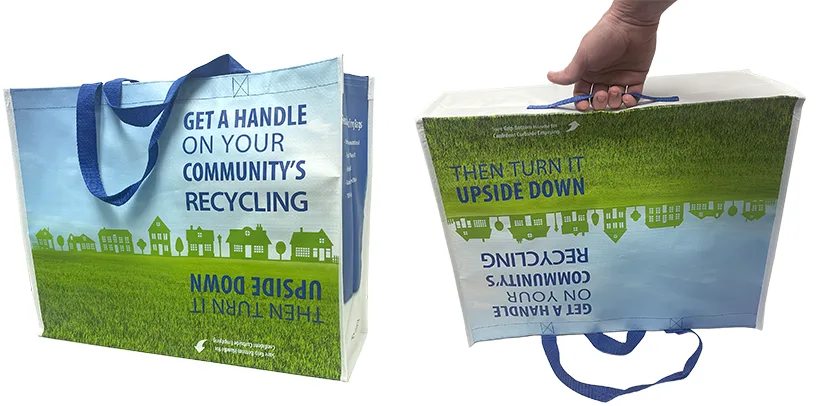 Designed to Function
The spacious bags can collect recyclables until they can be dumped into a designated bin. Long handles make it easy to hang the bag within reach or comfortably carry it. A bottom handle makes emptying the contents quick and simple. The bags are made from a smooth material that easily wipes clean and is constructed from recycled content for added convenience.
Educational Tool
One of the biggest advantages of reusable recycling bags is the ability to print custom artwork directly on the bags. This artwork can feature a list of items that can be recycled or items that cannot be recycled. Include a link to a website that provides common FAQs, answers, and more detailed information about recyclable items. This outreach can help a resident know exactly what to do with a cardboard egg carton (recyclable) or a disposable plastic bag (not accepted in most recycling programs).
Help the Planet
Reusable recycling bags are helpful for people living in apartments where there isn't space for a curbside bin. Creating custom bags is an excellent way for a property management firm to assist its residents. Custom reusable recycling bags are also effective wholesale promotional products. Aside from educating people about why and how to recycle, these bags can also grow your brand. Every time your customers add a recyclable item to their reusable bag, they'll see your logo and think of your brand.
Let us know if you're ready to start designing your custom reusable recycling bag. Call us with any questions at 866-222-0949 or get your customized quote on any of our reusable items for marketing and retail use.
Tagged