How to Store Reusable Bags?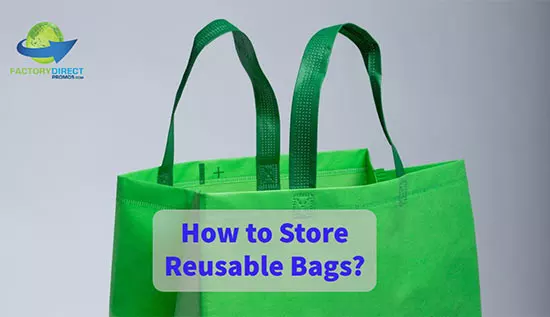 Stay Safe and #GoReusableNow
Reusable bags reduce the use of disposable plastic and they're great for the planet. However, there's still a lot of concern about making sure reusable bags are safe. This is a valid concern and it's something that is commonly searched as of late.
When you search, "how to store reusable bags" online, you get a lot of information on organizing reusable bags. And while that may be helpful, that is not the information we want to share with you.
Just like any other household items such as reusable mugs, straws, and even food containers, reusable bags are safe as long as they are cared for properly. The key is to store bags in a safe manner.
Here is what you need to know when it comes to how to store reusable bags.
How to Store Reusable Bags? Safety First
Reusable bags are safe to use during coronavirus or flu season. There was concern in the spring of 2020 that reusable bags may not be safe and could potentially spread germs, bacteria, and maybe even Coronavirus.
Anything that is touched and routinely handled has the potential to spread germs and bacteria, so that is why it is important to clean your reusable bags.
Taking the time to clean your reusable bags can stop the spread of germs and also extend the life of your bags. Washing reusable bags is quick and easy and once you get into the habit it will just become part of your normal routine.
How to Clean Reusable Bags
Before you clean your reusable bags, check to see if there are any washing or care instructions. If there are not, then let the material the bags are made from guide how you wash the bags.
Sustainable fabrics like cotton can normally go in a washing machine. Bags made from recycled plastic typically cannot go in a washing machine, so washing them by hand is best. Either of these methods is great for killing any bacteria on the bags, but this is also best if there are visible stains from leaky food containers.
Lay the reusable bags flat and let them air dry. In a pinch, you can always use a disinfectant wipe or spray to quickly clean the bags.
How to Store Your Reusable Bags
Studies have found that storing bags that are not cleaned in your car can promote the growth of bacteria since conditions inside of a car are typically warmer than outside. Clean reusable bags should be stored inside of your home.
Find a spot that is easy to reach, so the bags are accessible.
Once the bags are dry, you can place all of the bags inside of one bag and hang it in a coat closet or maybe have a basket or bin near your door where you can store the folded bags. When your reusable bags are within reach it will be easy to put them away and you will be more likely to remember to grab them when you head out to the store.
Why Work With Us?
We make it easy to design eco-friendly reusable bags that will help your customers go green while also promoting your business. We offer two ways to order, in-stock and custom/bulk to best fit your needs, budget, and timeline.
Since we work directly with our factory we've streamlined the process and made it incredibly easy.
We've also had the pleasure of working with some amazing customers who are leaders in their respective industries, like Carnival Cruise Lines, Whole Foods, American Express, The Home Depot, Pepsi, Bank of America, and more and we would love to add you to that lineup.
Shop our reusable bags now!
Tagged