Make Your Black Friday Marketing ROI Last All Year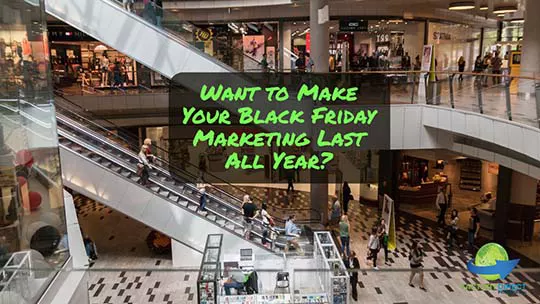 Simple Tip to Make the Most of the Busiest Shopping Day
Black Friday means different things to different people. For those in the retail industry, it means shopping, dealing with perhaps the BUSIEST time of the year in preparing for Black Friday. Creating an enjoyable and easy experience for shoppers can drastically impact sales. A great way to help shoppers out and promote your brand on Black Friday, but also all year long, is through the use of reusable shopping bags. Interested in increasing your marketing ROI from Black Friday? Reusable shopping bags will do it. How? Let's find out how creating and handing out free reusable bags with every purchase can do amazing things for your marketing!
People Love Free Gifts
A basic reality is people love free gifts, and people will show up just for the free gift. Handing out a free item to shoppers who make a purchase on Black Friday is potentially enough of an incentive all on its own to pull customers in. Alerting your loyal customers ahead of time about your free gift can prove to be an effective strategy to increase sales.
As shoppers browse and visit other stores on Black Friday after receiving your free reusable bag, they will increase awareness of your promotion. When other shoppers see your branded bag they will think of your store, and that simple reminder can be enough to cause them to visit.
Do you have a web-based portion of your business? Custom reusable grocery bags will work to help turn first-time sales into OFFLINE relationships with your customers that will lead to an increase in the lifetime value of your customers through repeat sales.
The Versatility of Reusable Bags
The trait that makes reusable grocery bags such an in-demand promotional item is the versatility. The bag can immediately be put to good use to package the customer's order. After Black Friday or Cyber-Monday, your customized reusable bag can be used however your customers' wish. The bags can easily fill in a shopping or grocery bag, it can be used to carry items to work or the gym or for any other purpose people need a reusable bag.
Communicate Your Message
Custom reusable bags clearly display your message, and function much like a sign your customers can carry. When your customers grab their free branded gift they will think of your brand and have this positive association with your brand because of the gift. When your customers carry your branded bag, they will spread your message to everyone they encounter and increase the reach of your message.
Create Something Unique
Every detail of our custom reusable bags can be customized. You can alter the design, size, choose the material and more. You can also customize the look by printing your logo, contact info and other unique artwork directly on the bag. The more useful your custom reusable bag design, the more your customers will use it, and the more visibility they will give your message.
Start Preparing for Black Friday and The Holiday Season
During the last three decades, Factory Direct Promos has become one of the largest importers and experts in the manufacturing of custom reusable bags for retail, trade show giveaways, and other marketing purposes. Our certifications such as GOTS, Fairtrade, ISO 9001:2015 and FEDEX are a testimony of our strong quality and social commitment. We service small and large organizations that want to order between 250 and 10 million pieces per year.
Fill out a quote request on our site or contact Factory Direct Promos TODAY! We know how to make the process easy for you and your team. Let us help you look good and your brand look even better.
Tagged