Why Plastic Bags Are Bad for The Planet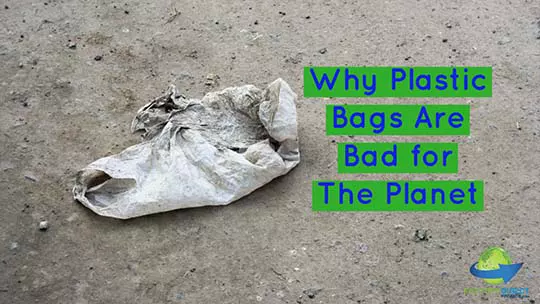 How Your Business Can Help Save The Planet from Plastic Pollution
As the Internet brings people together and makes it easier to share information, more people are becoming aware of the impact of plastic on the planet. Plastic bags are bad for the planet, and it's hard to spend any time on social media or online without being aware of this reality. Find out what makes plastic bags so bad for the planet, how reusable grocery bags can help and what your brand can do to help the planet and give consumers what they want.
Understanding Plastic
Plastic bags quickly came onto the grocery store scene and dominated it starting in the late 1970s and early 1980s. The thin, lightweight bags made it easy for shoppers to carry their purchases home and quickly went on to become commonplace in stores all across the U.S. The thin construction that makes plastic bags ideal for use as grocery bags, also proves to be the biggest drawback.
Difficulty Dealing with Plastic
Plastic bags are recyclable, but they are difficult to recycle. The bags often become tangled in the equipment and poses such a hassle that many recycling facilities simply do not accept plastic bags. Low recycling rates mean plastic bags are normally destined for landfills or they become litter. Neither of these outcomes is desirable.
Plastic is any form does not safely break down, or biodegrade. Plastic photodegrades, which means it breaks apart into tiny pieces. When in a landfill, plastic bags will continue to take up space, and when they end up as litter, plastic bags are a serious threat to animals.
Consumer Response
Consumers are becoming more aware of the dangers of plastic. Research shows an increase in the dialog online and on social media regarding plastic pollution. While many consumers try to do their part of reducing plastic use and litter, these individuals are also calling upon the brands they work with to do better.
Brands that reduce unnecessary packaging and look for ways to integrate recycled materials into their products, packaging, and marketing materials are rewarded with praise and support on social media and with consumers' purchasing power. By contrast, brands that fail to react to the plastic problem, are often targeted by consumers encouraging better behavior.
What You Can Do
Consumers appreciate brands that are socially responsible and practice sustainable methods whenever possible. This shift it pushing businesses to update how they do business and the impact can be significant. Opting to go green with your marketing can do some good, but also further endear your brand to your customers.
An excellent way to integrate green practices into your business and marketing is through the use of custom reusable bags. Providing a reusable bag option enables your consumers to ditch plastic bags and put an end to the negative impact these disposable bags wreak.
Advantages of Marketing with Reusable Grocery Bags
Reusable grocery bags are eco-friendly, but they are also completely customizable. Everything about our reusable grocery bags can be altered and changed to fit your exact specifications and needs. The ability to customize the design of the bag enables you to create a completely unique promotional product your customers will love. The more useful your customized bag, the more your customer will use it. When your customers use your branded bags they will be reminded of your brand, but they will also increase the awareness and recognition of your brand.
We Can Help
Factory Direct Promos has spent the last three decades becoming one of the leading experts and largest importers of custom reusable bags for retail, trade show giveaways, and other marketing purposes. We have worked hard to receive a host of certifications which are a testimony of our strong quality and social commitment.
From orders of 250 pieces to up to millions per year, we can help customers with their unique marketing needs. Fill out a quote request on our site or contact Factory Direct Promos TODAY to help the planet and your business! We know how to make the process easy for you.
Tagged