The History of The Shopping Bag: Part Two – Single-Use Plastic Bags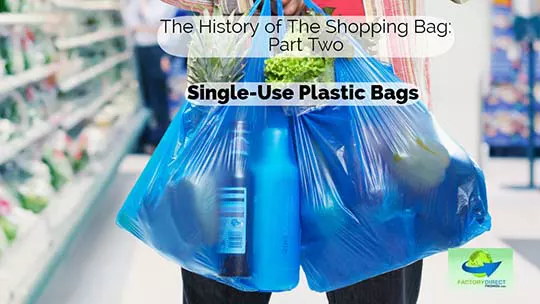 Managing Controversy
Reusable grocery shopping bags are such a normal part of everyday existence today, that a lot of people never give them a second thought. That's because of what happened back in 2007 changed it all, San Francisco made waves by passing a ban on single-use plastic bags. While San Francisco's ban would go through several revisions and did not become official until 2012, it got a lot of people across the U.S. thinking about shopping bags. In this second installment of our two-part series, we're going to look into the history of single-use plastic bags. Be sure to catch up on the first part in this two-part series and learn more about the history of reusable bags.
Accidental Origins of Polyethylene
In 1933, chemists in Norwich, England accidentally produced polyethylene. It would take time, but this plastic would go on to become one of the most used materials in the world. In 1960, Celloplast, a Swedish company, figured out how to make bags using thin film polyethylene. By 1965 Celloplast employee, Gustaf Thulin Sten, had perfected the process and invented what is known as the T-shirt plastic bag.
Introduction to American Shoppers
Single-use plastic shopping bags first became available in the U.S. in 1979. In 1982, two of the largest grocery store chains in the country, Safeway and Kroger, began offering single-use plastic bags to their customers. However, at this point, plastic bags were still not catching on in every place.
All that changed in 1985, when a speaker at a convention for the Society of Plastic Engineers, spoke about how inexpensive single-use plastic bags were compared to paper bags. Single-use plastic bags almost immediately began showing up at grocery stores all over the Unites States.
First Impressions
Shoppers in more suburban areas were not sold on plastic bags in the beginning. They preferred flat-bottomed paper bags, which could easily stand up in the trunks or back seats of cars. Single-use plastic bags caught on much more quickly in urban areas, where the handles made it easy for shoppers to carry multiple bags as they walked home. Despite customer preference, retailers preferred single-use plastic bags because of the lower price point. For this reason, plastic bags reigned supreme.
Environmental Impact
During the 1980's single-use plastic bags had more critics that just suburban moms irritated by their groceries sliding around in the trunks of their cars. Environmentalists began to take note of these omnipresent bags. The first issue was the materials that went into producing the thin plastic film. Polyethylene is made from non-renewable resources, namely natural gas and oil. Extraction and production of these materials come with controversial social and political implications.
Furthermore, there is no acceptable way to handle these bags once they have fulfilled their purpose. If consumers toss their leftover plastic bags in the trash, they end up sitting in a landfill pretty much forever. Single-use plastic bags are also very likely to end up as litter. The lightweight construction makes it easy for a strong burst of wind to lift the bags out of garbage cans or trucks or landfills and carry them off. Plastic litter is a serious health risk to animals and it turns out for people too.
Single-Use Plastic Bag Backlash
Opposition to single-use plastic bags began mounting in the 1980's and through the 1990's. In 1997 the Great Pacific Garbage Patch was discovered, and this began to change how people viewed plastics. It was still another decade before San Francisco took that first stand against single-use plastic bags, but the effort has only gained momentum since then. Efforts to ban single-use plastic bags have spread across the world as people are beginning to understand that plastic is bad for the planet.
Alternate Solutions
With plastic bags becoming a controversial item, many shoppers are making the switch to reusable grocery bags. Often made from recycled or sustainable materials, these durable alternatives do the same work as single-use bags, but without the environmental damage. Many brands are also turning to reusable bags as effective promotional products.
Learn More
Find out more about reusable grocery bags and what they can do for your brand and learn more about the bag ban movement by checking out our map. If you have questions about marketing your brand with custom reusable bags we are here to help. With almost 30 years in the business of creating custom promotional products, we have learned a thing or two about how to make the entire process as quick and easy as possible.
Tagged