8 Stand-Out Features of The BEST Reusable Bags for Marketing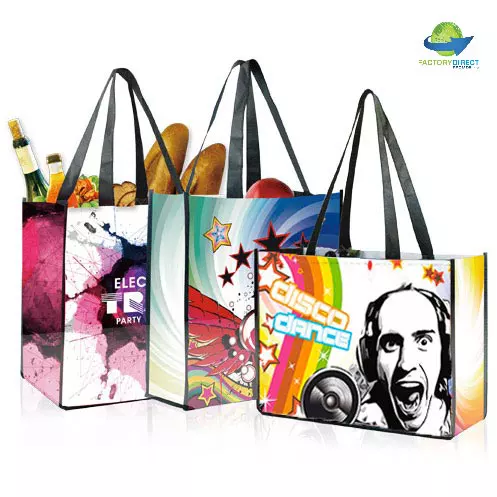 What You Need to Know to Create the Best Reusable Bags for Marketing Your Brand
A lot goes into creating excellent reusable bags for marketing. The bags themselves certainly matter, as well as the company you work with, the design and printing, and more. Find out what are the 8 stand-out features you need to look for if you want the best reusable bags for marketing.
1. High-Quality Bags
This seems to make common sense yet I have been to many trade shows and seen show bags with broken handles tossed aside into the trash and worse, just left on the show floor.
Nothing says "cheap and we did not care about YOU or our show" like a low-quality bag.
Save yourself the hassle and embarrassment and work with a reputable company that sells safe, quality products and knows better than to sell single-stitched bags that cannot hold up for even one day of a conference.
2. The Company
Although this item is not directly a feature of a winning bag, who you order your reusable bags from for marketing matters.
How long have they been in business? What certifications do they hold? Are they ISO certified?
In order to ensure your bags will be of the highest quality, you really need to be able to have faith in your vendor. Do they have their own factory or are they a middle-man?
3. The Certification
Certified Bags are a must. Bags that are certified go through a vetting process to ensure they are constructed in a way that will last and hold up to regular use.
When you select certified bags you have peace of mind that your promotional bags will hold up.
This is beneficial because you don't want to create a negative experience for your customers when they use your bag and you also want your bags to hang in there and promote your business.
4. Get Social
Many people put social media logos on the gusset of their reusable bags so customers know they can find the business on social media.
It's also a great idea to put your actual profile name for each social site on the bottom of the bag on the inside.
This directs customers directly to your profile, so you don't have to worry they'll visit an account with a similar name. Placing the information inside the bag creates interest and makes a memorable marketing win.
5. Safety
Safety is so very important. Make sure the reusable bags you purchase for marketing have been tested to confirm they are safe to use. You want to ensure there is no concern about causing contamination or impacting the health and wellness of your customers and anyone else who should handle the bags.
6. Go FULL Color
Once you have ensured that you are working with a company that can provide you with the highest quality, you can feel comfortable going with full-color bags.
When done correctly and with expertise, full-color printing can be eye-catching and allow your promotional bags to relay a lot of information.
Some manufacturers or distributors cannot provide the crisp and colorful imaging you need to portray your branding message. Ask for a sample of one of your prospective vendor's full-color reusable bags before you purchase.
7. Customization
All reusable bags provide some degree of value and usefulness, but creating a bag that is just a bit extra will leave a lasting impression.
You know your customers and you know what they want. Create a bag that is fully and totally your own and it will become a favorite of your customers and prospects.
If a messenger would bag be a perfect fit then look for ways you can further customize that messenger bag to function for your customers. You get the idea, but a good vendor will work with you to create somehting totally custom for your brand.
8. Add a QR Code
QR codes are not dead! Including a QR code on your custom reusable bag allows you to relay lots of useful information.
You can link to your online catalog, order forms, on-going giveaway, social media accounts, or anyplace that would be helpful. QR codes make it possible to streamline the look of your bag but will provide tons of useful information.
You can even create a Google Maps QR code for your business.
We Can Help You Create the Best Reusable Bags for Marketing
We meet all of the above criteria and then some!
We are ISO certified and we are certified by CalRecycle.
We have been in business for over one decade and we have our own factory, so we've learned how to streamline the process to make it easy.
And you should see our full-color bags!
We have a supply of in-stock bags for quick turnarounds, but if you need a large quantity or if you want to create something truly custom, we can do that, too! Reusable bags are safe and they are highly effective promotional products.
Create your own reusable bags for marketing or contact Factory Direct today and ask for samples of our full-color reusable bags for marketing.
Tagged