Love Is In the Reusable Shopping Bag! Free One Color Imprint Through Feb. 26th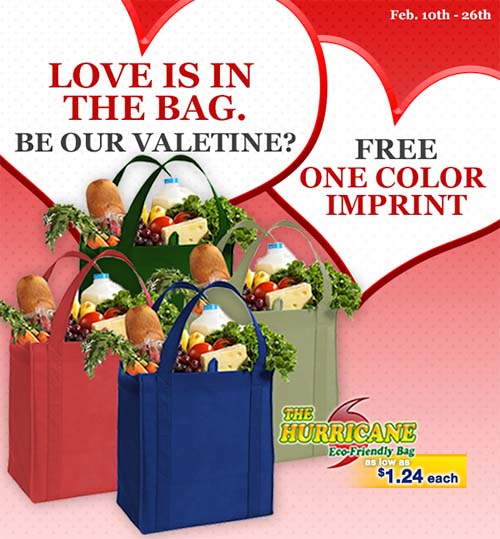 Fall In Love with a Free One-Color Imprint on Our Best Selling Reusable Shopping Bag!
Be our Valentine this year and take advantage of our most recent eco special! When you pick up our eco-friendly Hurricane reusable shopping bag before February 26, 2016, you can secure a free one-color imprint all starting at $1.24 per bag.
The Reusable Hurricane Bag Is Built to Last
Our eco-friendly Hurricane bag is made from 120GSM heavy-weight polypropylene non-woven material. This sounds intense, but non-woven polypropylene bags are essentially constructed from recycled plastic stretched into fibers and bonded together. The resulting material is lightweight and really strong – both of which are great characteristics for reusable shopping bags.
The heavy-weight fabric and reinforced bottom and handles allow this reusable bag to support up to 25 pounds. Durability is a key for a reusable bag because the longer a customized reusable bag lasts the longer your customer's and prospects will display your branding information and connect with your brand.
Make the Hurricane Bag Represent Your Brand
This reusable shopping bag is 13″ x 15″ x 10″, making it a great size for toting goods home from the store or market. You can select the color of the material; choose from black, forest green, royal blue, red, or tan. You can also choose the imprint color.
Reusable bags are in demand with an increase in awareness about the harm caused by disposable plastic bags; as well as bag bans becoming more common. Reusable bags are an item that just about everyone has a need for, and when carried they put your branding info on display. The eco-friendly Hurricane bag is a great and effective marketing tool. Combined with our Valentine's eco special this is a great opportunity to promote your brand in an environmentally responsible way while also making your marketing dollar stretch.
Do you have questions about this eco special? Need a quote? Or do you want to learn more about our reusable Hurricane bags or the design process? Get in touch and we can help you. Learn what makes our reusable Hurricane bag such a popular bag and get your order in by February 26, 2016.
Tagged