Reusable Grocery Bags VS. Plastic Bags…You Might Be Surprised By The Facts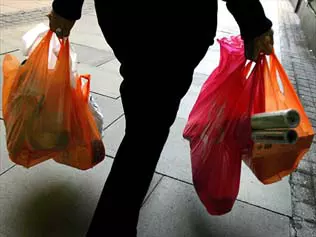 Plastic Bags VS. Reusable Grocery Bags
There are two traits that make disposable plastic bags handy. One is the lightweight construction, which will not weigh you down when you carry a loaded bag. The second is durability, which ensures the bag won't fall apart while in use. Have you ever wondered how disposable plastic bags stack up against reusable grocery bags? We did, so we did some research on plastic bags vs. reusable grocery bags to figure out how both types of bags hold up.
Disposable Plastic Bags Are Surprisingly Strong
It is estimated that a single-use plastic bag can hold up to 17 pounds, of course that has to do with the actual thickness of the plastic bag, but that is still pretty impressive. On the other hand, reusable grocery bags, like our Hurricane Reusable Grocery Bag can easily hold up to 22 pounds. That extra weight capacity can make a huge difference.
High quality and strength in design matter in both a plastic bag and reusable grocery bags. Being able to increase the stitches at pressure points, like where the handles attach to the side panels, and reinforcing the bottom with a panel ensure years of eco-friendly, durability in reusable grocery bags. Single-use, plastic bags also offer durability but of course for a fraction of the time compared to reusable grocery bags.
When you customize reusable grocery bags with your branding, that item is a reflection of your company. You want something that is durable and well made because your customers will link this item to your brand. A useful and enduring marketing tool makes your company look dependable and reliable. These are good traits for your customers to associate with your brand.
The Walk Test Proves the Durability of Reusable Grocery Bags
We have lab tested all of our reusable grocery bags to ensure they hang in there when you and your customers need them. As part of the efforts to ban single-use plastic bags throughout the state, the California government has set standards for reusable shopping bags. These standards are known as the Walk Test. In order to pass the Walk Test a reusable bag has to have a minimum lifetime capability of 125 or more uses whiling carrying at least 22 pounds over a distance of at least 175 feet. We are proud to report that all of our reusable bags can accomplish this feat. So you can buy custom branded grocery bags in bulk at wholesale pricing to provide to your customers for mere pennies per use over the life of the bag!
The whole purpose behind customized marketing tools is to give your brand exposure. The more durable your customized marketing tool is, the more exposure it will give your brand. Disposable plastic bags just do not deliver the same level of quality that you can expects from reusable grocery bags and they are not an eco-friendly way to market your brand.
To learn how easy it is to create reusable grocery bags that spread your marketing message, get in touch and we'll help you out!
Tagged