17 Fresh Promotional Items for the Floral and Produce Industry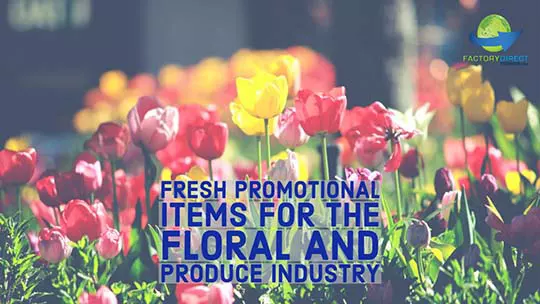 Leave a Lasting Marketing Impression
The right promotional products will speak to your demographic and leave a long-lasting marketing impression. Different products appeal to different demographics, so taking the time to find just the right promotional product is time well spent. PMA's Fresh Summit is almost here (we're very excited!) and this got us thinking about innovative and memorable ways to market produce and floral products.
All in the Family
At Factory Direct Promos, we are part of an amazing team under the SBS Brands' Family of Companies. SBS Brands has been going strong since in 1924 and includes a variety of brands today. Our sister brand, Superior Business Solutions, are print management pros and we found some great tips on promo for the floral and produce industry in posts from the VP of SBS, Tim English.
The Right Promotional Products
The more functional and useful a promotional product, the more use it will get, which means the more exposure it will give your brand. All of these products provide value and fulfill a purpose, and they can also be customized with your marketing information to serve as a reminder of your brand. These products also have clever tie-ins to the floral and produce industry, giving them a special appeal.
1. Promotional Calendars
2. Promotional Produce-Inspired Stress Relievers
3. Fruit Infusion Flavor Carafe
4. Custom Shaped Promotional Pens
5. Custom Branded Agricultural Pail
6. Custom Produce Shaped and Farm Inspired USB Drives
7. Custom Branded Cookbook
8. Promotional Cutting Boards
9. Promotional Apparel
10. Customized Promotional Kitting
11. PVC Delivery Van USB Drive
12. Promotional Gardening Tool Sets
13. Foldable Flower Gift Card Holder
14. Floral Designs Adult Coloring Book
15. Customized Floral Wood Puzzle
16. Promotional Vase
One Item Absent From the Other Lists
One item that was missed in Tim's posts for Superior's Business Solutions were custom reusable bags. Reusable bags provide lots of function during a trade show, but much like the other products on this list, they can also be used long after the event ends. Customizing reusable bags with your marketing information essentially turns the bags into signs your customers can carry to spread your message. The BIG benefit with reusable trade show bags is that they will work to market your brand n the trade show floor remarkably well.
Go Green and Make a Statement
Reusable bags are eco-friendly promotional products partly due to their reusable nature. By filling in for disposable bags, reusable bag provides a green alternative. Further, our reusable bags are also made from recycled or sustainable content, which adds to their overall green qualities. Promoting your brand with eco-friendly reusable bags not only spreads your branding information, but it also makes a statement about your commitment to go green and reduce the damaging impacts of plastic.
Long-Lasting Reusable Bags Create Long-Lasting Marketing Impressions
For PMA's Fresh Summit we created a new custom reusable bag. This bag is already generating a lot of interest, so if you'll be in Orlando and attending this year's Fresh Summit, stop by booth #2835 to get your bag, say hello and find out how we can help you create effective customized promotional products for your next event!
Tagged