Your Latest News on Plastic Bag Bans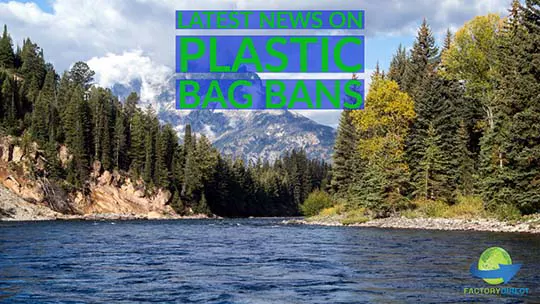 Find Out Which Cities Recently Passed Plastic Bag Bans
Plastic bag bans continue to gain momentum as cities and towns, and even counties, all across the U.S. are working to implement bans. For many residents, bag bans are a way to reduce plastic trash and the negative environmental impact. Check out this rundown for the latest updates in the U.S. and visit our map to learn more about plastic bag bans all over the world.
First County-Wide Bag Ban in NY
Ulster County became the first county in New York state to pass a ban on single-use plastic bags. The County Legislature voted in favor of the ban 15-7, and the measure was approved by the county executive. Ulster's ban will become effective on July 15, 2019; however, there will be a six month grace period, before the law will be enforced. The ban also imposes a 5-cent fee on paper bags.
Warren County is closing in on a final resolution regarding their proposed ban. Officials initially held off on this proposal while there was talk of a possible state-wide ban. When the state government failed to take action, Warren County officials revisited their local ban. The proposal has cleared two of the three required public hearings and the county board will decide whether to pursue an environmental review.
Vote Looming in Vacationland
When Camden residents take to the polls on November 6 they will decide the future of plastic bags in this Mid Coast town. In addition to banning disposable plastic bags, Camden's law would also levy a 10-cent fee on paper bags.
Ban Fee in Keystone State
Narberth caught the attention of state lawmakers after passing a law intended to reduce unnecessary plastic. Plastic drinking straws will only be available in restaurants upon request in this town about 10 miles north-west of Philadelphia. Retailers must charge a 10-cent fee for each single-use plastic bag handed out. Two state lawmakers have taken notice of Narberth's stand against plastic straws, and are interested in taking the measure state-wide.
Ban May Be Coming Sooner Than Expected in Jackson
A proposed bag ban in Jackson could become active as early as April of 2019. The Town Council has yet to set a start date, but officials are anxious to make things official, so retailers can start working through their stockpiles of bags.
Revisiting Plastic Bag Bans in Homer
Back in 2012, single-use plastic bags were banned in Homer, Alaska. Many residents agreed plastic litter was a problem but took issue with the mandatory nature of the ban. About 10 months after Homer's ban went into action it was overturned by a citizen's initiative. The Homer City Council recently started a discussion around whether they should revisit a bag ban on the Kenai Peninsula.
Follow Plastic Bag Bans
The plastic bag ban movement continues to move forward and expand to new cities and states. Get a sense of the big picture by checking out our map and please reach out if you notice any cities or towns missing! An increase in plastic bag bans creates an increased need for reusable shopping bags. At Factory Direct Promos, we have been in the business of creating custom reusable bags for almost 30 years. During that time we've racked up some serious certifications, such as GOTS, Fairtrade, ISO 9001-2015, and FEDEX; all of which is a testimony of our strong quality and social commitment.
Whether you need an order of 250 bags annually or as many as 10 million bags, we are here to help. Fill out a quote request on our site or contact Factory Direct Promos TODAY to help the planet and your business! We know how to make the process easy for you!