How Reusable Promotional Products Generate Return Business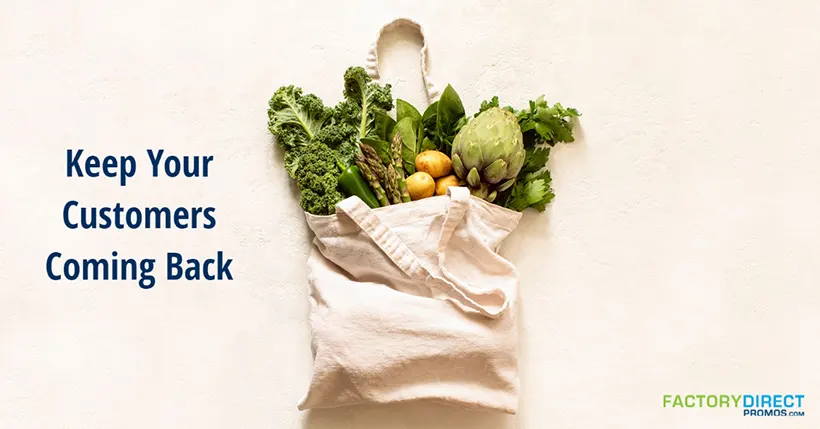 Your clients have a lot of choices when it comes to who they work with, so helping them remember your brand can give them a nudge in your direction when it's time to make purchasing decisions. Custom promotional products are a constant reminder of your brand, so getting branded gear into your customer's hands can help them remember you and create a positive association. Here is how reusable promotional products help generate return business.
Go Green
More and more customers are interested in the environmental impact of the brands they work with, and the eco-friendliness of a brand is a factor when making purchasing decisions. Online searches for sustainable goods continue to increase. Limiting your brand's environmental footprint and making responsible material choices shows customers that you are serious about the planet, which will endear your brand to them.
Explain your brand's efforts to go green in blog posts and social media to spread the word and show your commitment to the issue. Take your marketing efforts green by utilizing promotional products made from recycled or sustainable materials.
Be Memorable
Recent studies show that customers are more likely to do business with brands that give them custom promotional products. Customers who receive custom drinkware or pens are 30% more likely to do business with a brand. Up to 26% of customers gifted custom reusable bags will likely be return customers. Branded gear is a thoughtful gesture that shows customers your brand values and appreciates them; this rapport will keep them coming back.
Repeat business is partly due to the eco-friendly aspect of reusable promotional items, but the products also serve as a reminder of your brand. Every time your customer takes a sip from a branded water bottle or reaches for their reusable shopping bag, they'll think of your brand.
Connect with Customers
Promotional products work, but you must choose the right product for your customers. Useful, practical items that will get regular use are the most effective at keeping your brand front of mind. We offer a range of products, and they are all customizable so that you can create meaningful connections with your customers.
We also offer two ways to order. Consider our in-stock items if you need a small quantity or have a tight deadline. These products are assembled, and we just need to print your custom artwork on them, allowing us to get them out to you right away. Our custom and bulk items are a better fit for large orders or highly customized products. Increasing the quantity lowers the unit price, making bulk ordering more cost-effective. Custom orders are a good choice if you want to alter the product's design, so you can change bag material, add closures or pockets, or whatever else you dream up.
Create Custom Promotional Products Today
Our eco-friendly reusable products promote your brand and encourage return business. We've been helping our customers create custom, reusable bags for years and years, and we want to help you, too!
Call us at 866-222-0949 or shop our full line of eco-friendly promotional items and get your custom quote.