Ombre Trade Show Tote + Your Customization = A Winning Combination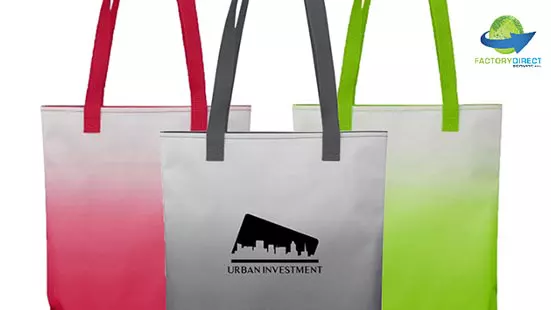 Find Out How to Make Your Next Promotional Bag Stand Out
Before you know it, face to face trade shows will be back in business! You certainly have seen the event industry making changes to the way businesses interact via virtual events. But these virtual events still include promotional gifts and this ombre bag will ensure you and your brand are remembered. Find out how our ombre reusable bag with excellent wholesale pricing will help your brand get noticed.
Get Noticed
We absolutely love this bag because it not only holds up to our tough safety standards for our reusable bags, but it also leaves a lasting impression. The ombre or color fade starts out as white at the top of the bag and gradually increases to a full flood of color in gray, red, or lime at the bottom of the bag. The back of the bag is a matching solid color.
The ombre effect will draw attention to your branding message. Reusable bags are great at delivering impressions, but this bag in particular will help your branding message get noticed.
The 28″ long handles easily drape over a shoulder for comfortable hands-free carrying. Simply by being reusable, these bags are already eco-friendly, but they take things to the next level by being made from recycled content.
Wholesale Pricing
We offer wholesale pricing for these ombre trade show totes. Since we sell these bags in high quantities and sell directly to your business, we are able to offer wholesale pricing. This means you are able to secure a great price and really maximize your marketing budget.
Ways to Order
There are two ways you can place orders for custom reusable trade show totes with us. You can order from our in-stock selection or you can order from our custom/bulk selection. How you should order really comes down to how many bags you need and how quickly. Ordering custom/bulk is generally a better deal. However, time restraints may require you to order from our in-stock lineup.
Our in-stock bags are already manufactured. You just need to send us your artwork and we will print it on these existing bags. This typically takes a few weeks. We have limited quantities for our in-stock selection, so this really only is a good fit if you need a small quantity of bags as soon as possible.
Our custom/bulk ordering generally takes up to 8 weeks, but this affords you more opportunities to customize the design of your bags. When ordering custom/bulk your bags are made to order, so we can stick to any of our existing designs.
We can also alter one of our bags to your specifications, by adding pockets or zipper closure or anything else you envision on your custom bags. You can also break new ground, completely design your very own reusable bag and we can make it happen.
Benefits of Using Reusable Bags for Marketing
Reusable tote bags are good for the planet and good for your brand. On average, reusable bags are kept for about 11 months. This is a long time in terms of placing an advertisement, which is essentially what a custom-branded bag is doing.
About half of consumers are more likely to do business with a brand that gave them a custom reusable bag. This means that if you can get your branded bag into your consumer's hands they are 50% more likely to do business with you. This is a significant conversion rate.
How Certified Bags Can Help Your Brand
Many of the reusable bags we create are certified reusable. This means they are designed with function and longevity in mind. Certified reusable bags must feature a handle and be able to accommodate at least 125 uses. These reusable bags must also have a capacity of at least 15 liters or four gallons. The bags must also be washable and include care instructions.
These features are all good for your customers because it means they have a well-made bag that will hang in there and deliver dependable use. Certified reusable bags are also good for your brand because they provide peace of mind. You know that these bags are built to last and they will promote your brand that entire time.
We Are Here to Help
We have been in the business of helping our customers create custom reusable bags for over 10 years all out of our offices in Florida. We are committed to our customers and the planet as is evident in our various ISO certifications.
Shop our newest trade show tote and get your customized quote on this ombre bag for your marketing.
Tagged