3 Ways a Reusable Bag Can Help You Go Green at Work or Home This Holiday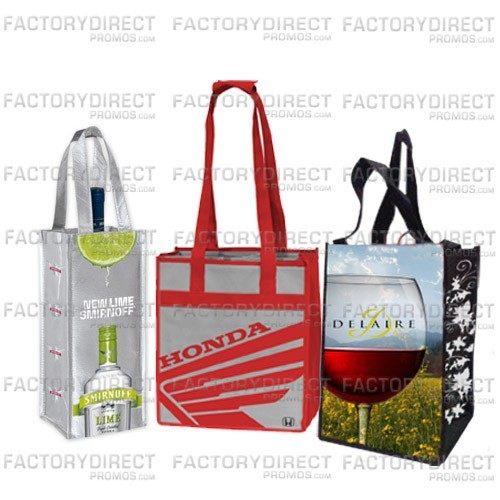 Wondering How to Go Green This Holiday? Look to Reusable Bags!
Reusable bags are handy year round, but they are also a convenient way to add some sustainability to your workplace or home holiday planning. Here are three ways you can use a reusable bag during the holidays to make your life easier and make the holidays greener.
Use a Reusable Bag to Give Wine
If you're giving wine as a gift either to friends or clients, a reusable bag is a great way to wrap the gift and safely transport it. The durable construction of our reusable wine bags will cushion and protect the bottle for safe keeping and spread your holiday or corporate message.
We also offer bags that can accommodate multiple bottles if you are feeling particularly generous. Our multiple bottle bags feature individual compartments, so each bottle is safe and sound and protected.
Our reusable wine bags also feature comfortable to carry handles for added convenience. These bags are green partly because they are reusable and also because they are made from recycled or sustainable materials.
By using a reusable wine bag you eliminate the use and need for a disposable bag. Reusable wine totes can also be repurposed – they are handy to carry purchases home from a liquor store, but they are also handy to bring to the grocery store since they offer an easy way to carry jars of tomato sauce, liter bottles and more.
Use an Insulated Bag to Bring a Dish to a Party and Leave with the Host
It's hard to get through the holiday season without being invited to a party or dinner and finding yourself bringing a dish. An insulated bag is a great way to transport a dish – hot or cold – because if there are any spills, they will be contained inside the bag and not end up on the inside of your car.
Our thick, insulated bags keep hot dishes warm and cold dishes cool and for added convenience and they make a great host or client gift since they can be used again and again and branded with your message. After the dinner party is over the reusable insulated bag can be used to keep frozen items chilled on the way home from the grocery store or to keep beverages cool for a post-workout drink. The small design is great for snacks on a road trip or depending on the size of the bag it may even make a convenient lunch tote.
Use to Wrap Gifts – If You Are a Business This Serves a Dual Purpose for Marketing
Wrapping paper is the more traditional way to wrap a gift, but it can only be used once and even if it is made in a sustainable manner (which most are not) it still is not as green as a reusable bag. Disposable gift bags aren't any better – the low quality construction means they can typically only be used a few times and sustainability is usually not a factor.
When you package a gift in a reusable bag the bag itself becomes part of the gift, so not only is the recipient getting something extra, but every time they see and use the bag they will be reminded of you and your nice gesture. Consider placing your corporate gift in a custom reusable bag to help market your company. Your clients and vendors will receive the gift of a convenient reusable bag and your brand will receive increased awareness and recognition.
Green Products Are a Smart Choice
Anything reusable is green since it eliminates the use and need of disposable products, but our products up the green ante since they are also made from recycled or sustainable materials. Any way you can work in green practices in your holiday preparation is definitely a step in the right direction, but giving a green gift also teaches and inspires your recipients to make green decisions, too. How do you incorporate green practices into your holiday planning?
Tagged