5 Trade Show Marketing Trends for 2018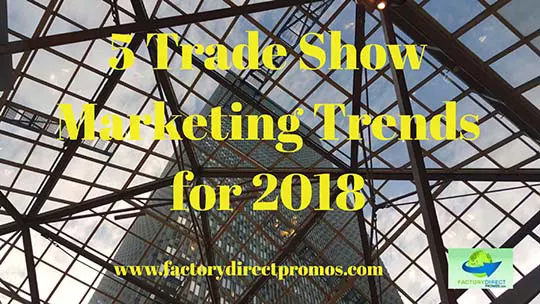 Elevate Your Event for the New Year
Trade shows are about reaching your customers and important members of your industry and creating a rapport. With careful planning and coordination, you can turn your trade show into a highly effective platform to connect your brand with customers, vendors and more. Here are five trade show marketing trends to put into practice during 2018 to take your event to the next level.
Live Events

Live events, such as trade shows, are likely to continue as a strong marketing trend well into 2018. Live events give a brand the chance to meet vendors, customers and industry experts face-to-face. This communication is more effective and lasting than any other form of marketing and outreach. To make live events work for your brand look at the number of events you attend and your presence at each event. The relationships forged at trade shows are so worthwhile it may be worth attending more shows. For the shows, you attend consider negotiating a prime spot and even taking on sponsorships that increase your brand's presence.

Create interest around your trade shows and other events by live streaming. A live stream will allow people who are unable to attend to experience the event to a degree and see what is going on. You will also have a captive audience that will see the trade show through your lens, literally and figuratively. Give a tour of your booth and do a live sales pitch to help people learn more about your brand and the products or services you offer.

Custom Exhibit

Trade shows provide a great opportunity to meet people in the industry, but they need to know you are there in order to stop by your booth. Ensure your booth stands out from your competitors and is an inviting and engaging space that draws visitors in. The 2018 marketing trend that ensures you achieve these goals is to create a custom exhibit displays.

Completely custom displays deliver your carefully crafted branding message and create a unique experience for visitors. Retractable banners help define a space and make for easy setup and breakdown.

Visitor Engagement

Getting people into your booth can be a challenge, so look for ways to improve visitor engagement. Games and contests and even promoting enticing takeaways have all been traditional methods of visitor engagement. Technology is creating new opportunities to connect with your visitors. From interactive displays to virtual reality and more look for ways to appeal to and interest visitors and allow them to engage with your brand.

Effective Promotional Products

Branded gear is a tried and true method of promoting your brand and getting your information out there. As far as marketing trends go promotional products will stick around for 2018. Custom trade show bags deliver on several key fronts. Made from recycled or sustainable materials, these reusable bags are environmentally friendly. The durable construction ensures these bags can be used many, many times. On average a reusable bag will last for about six years. This is a promotional tool that will create interest and awareness of your brand during the trade show, as well as many years after the event.

Consistent Branding

Your brand represents your business, and the experience created at a trade show booth should be the same as what one would experience at your office, storefront or any other public-facing space your business inhabits. Create a cohesive branding experience by utilizing the same colors, graphics or imagery, materials and decor. For instance, if your lobby and storefront have a very rustic look carry that over into your trade show booth.
Start Implementing Marketing Trends for 2018
Plan your most successful trade shows ever by putting these tips to use. We compiled our list by looking at trends from this past year and earlier and looking ahead to where we think the trade show industry is heading. Do you have any marketing trend predictions that didn't make our list? Let us know!
Tagged