What Are The Top 10 Green Colleges and Universities in the United States?
What Are The Greenest Colleges and Universities in the United States?
The notion of going green has evolved substantially over the last decade or so right? Remember when, not long ago, when simply setting out recycling bins was enough to earn green bragging rights? Well times have changed for business, consumers, as well as colleges and universities.
Many colleges and universities across the country have worked tirelessly to implement green practices and there are so many things colleges in particular can do to up the green factor from recycling and composting to utilizing items made from recycled content, harnessing solar, wind or geothermic power, purchasing offsets and even giving students free bus passes. We scoured the Internet to come up with a list of institutions of higher education that strive to reduce their environmental impact through a variety of endeavors.
How Schools Made the Cut
There are a lot of great colleges and universities out there doing amazing things to help the planet. A common thread we noticed while researching this list that elevated several schools was when institutions made students part of the green solution.
There is certainly value in asking the student body to abide by green habits, but involving students in green practices and getting student participation teaches the students how to incorporate green ideals into their lives, but it also allows students to take ownership of the green practices and allows for bigger and better results.
This is definitely the case at the College of Atlantic, for instance, which has been carbon neutral since 2007. This achievement could not have happened with the hard work of the students and faculty and is a testament to what can happen when the entire university community works together.
Alternate Sources of Energy Power Academia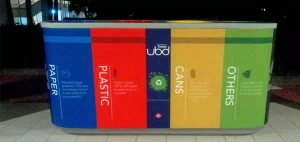 Power is absolutely necessary to get by, but it can also have massive environmental implications. Many of the schools that made the list below look for alternative options to keep the lights on while also doing right by the planet.
For example there is the University of New Hampshire's EcoLine which utilizes landfill gas to generate electricity and Middlebury College's Biomass plant. Oberlin College features an impressively large solar array and utilizes geothermic heating. Such practices allow schools to hit their green goals while also teaching students about their environmental impact.
Self-Supporting Practices Set a Standard
When a university is self-supporting, or rather they provide products or services they need internally instead of outsourcing or trucking items in, they reduce the need to transport goods from potentially thousands of miles away.
Many of the institutions on our list, like Warren Wilson College and Evergreen College practice organic growing practices on their own farms, which mean crops are grown without pesticides or chemicals. By putting self-supporting practices into play universities are able to take control of their green destinies.
Our Picks for Top 10 Colleges and Universities in the United States
We've shared a couple glimpses of our list, so now without further ado here is The Factory Direct Promos list of the top 10 green colleges universities in the United States (in no particular order).  Each school links to their green initiatives so click below and see why they made our list.
Did Your Favorite School Make the List?
This was a tough list to pull together and there are a lot of great colleges and universities that did not make this roundup, but can we be convinced otherwise? Did your favorite school find a spot on our list? If it didn't and you think it should tell us why in the comments.
Tagged