Top Selling Recyclable Bags for Trade Show Marketing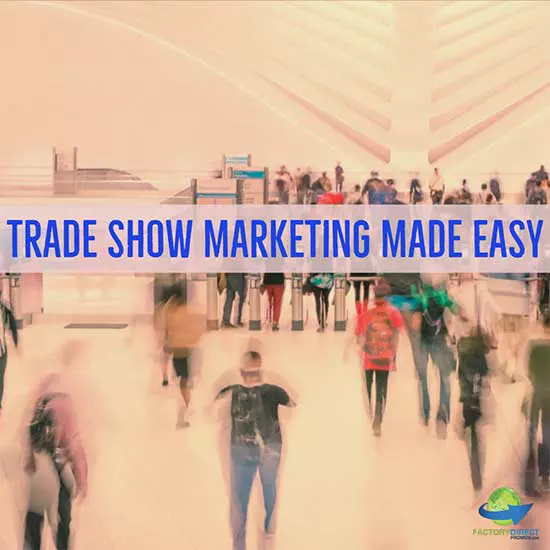 Recyclable Bags Can Help Build Your Brand at Your Next Trade Show
Trade shows are an amazing opportunity to connect with existing clients and meet new customers. The ability to speak with people face-to-face and explain why your business is the right fit for their needs is so very useful and pivotal to establishing and growing your business. Custom promotional products, like recycled trade show bags, can help raise awareness of your business during the event and continue this work to promote your brand long after the trade show ends.
People like free stuff, particularly stuff that serves a purpose and is useful. When you hand out branded trade show bags those bags will come in handy during the event, but also fulfill a need after the trade show. Take your trade show marketing to the next level by creating customized bags to use as takeaways.
Many times our customers ask for bags that can be recycled to help the planet while helping build their brand. Here are some of our top-selling recyclable bags for trade show marketing.
1. Reusable Messenger Bags
The slim profile of these reusable messenger bags provides plenty of space to stash catalogs picked up while visiting booths as the bags sit comfortably against your customer's side. Hook-and-loop closure secures items inside of the bag while the non-woven 80GSM polypropylene material is durable. The fabric is coated for water resistance which will help protect documents and items inside of the bag if it is used during a rainstorm or inclement weather. This bag easily transitions from a trade show to the office where it will continue to promote your business.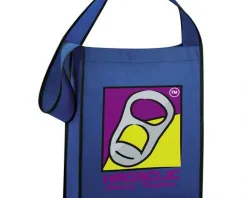 2.Eco Recycled Bags
We love these eco-recycled bags because it is roomy with a nice long handle to toss the bag easily over your shoulder. One color, one location imprint is included with many colors available. This tote is great for so many needs after the show is over that your brand will get maximum exposure.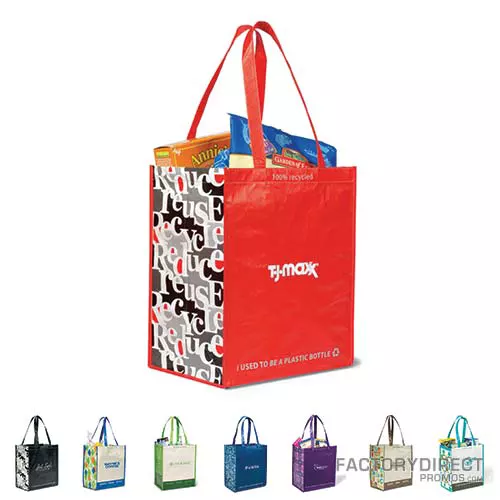 3. Custom Wine Totes
Depending on your business, industry, and demographics, custom wine totes can be a great option for your trade show marketing. Separate compartments protect individual bottles when used to transport wine or really anything about the size of a wine bottle. They can be used to collect documents and swag when they are handed out during a trade show. Post trade show, they can be used as a grocery bag or carry a hostess gift. These wine totes feature durable construction to easily carry heavy loads and a fully customizable design to showcase your branding information and function for your clients.
4. Metallic Shopping Bags
The great thing about these recyclable metallic shopping bags is that they are eye-catching! They stand out and are also HUGE! This is a great trick to remember when creating your trade show bags, people love big bags. Most bags at trade shows are relatively small and do not provide a lot of storage. This recyclable bag is always a hit at trade shows and after the event, this bag will get a tremendous amount of use to show off your brand and strengthen the relationship with your prospects.
5. Custom Shopping Bags
Bring your specific ideas to life by designing your very own custom shopping bags. Full-color printing on all sides creates plenty of space to get your message out there while the ability to create something unique and one-of-a-kind will further speak to your brand. The shopping bag style is very useful and popular and can certainly be useful during a trade show and continue to provide value both for your customers and your brand after the event ends.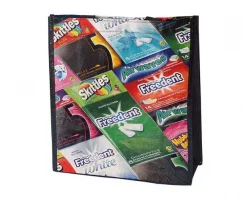 Trade Show Marketing Made Easy
Preparing for a trade show is a lot of work. Pulling together a takeaway that successfully promotes your business during and after the trade show while also making the most of your time and budget may seem impossible, but we've got your solution. For almost 30 years we have been helping our clients design recyclable bags for trade show marketing.
We make the process quick and easy! You can enjoy something custom that will deliver a great ROI without investing too much time, so you can get back to the rest of your planning.
Learn more about how easy it is to customize any of our trade show bags by clicking on the bags above for a custom quote or simply by reaching out!
Tagged