Plastic Bag Alternatives for Retail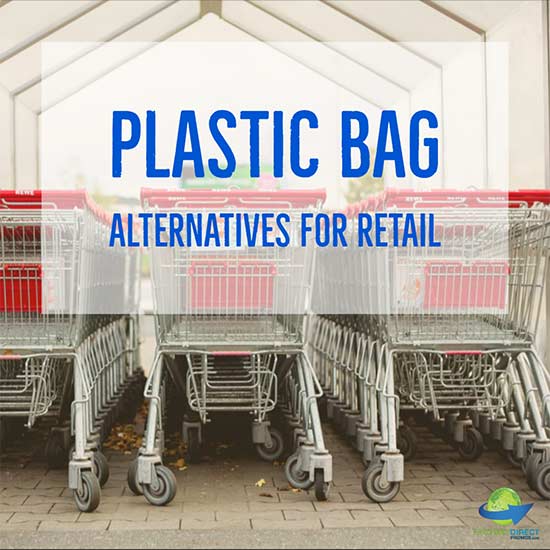 Create Your Own Custom Reusable Bags for Retail Use
Consumers have steadily turned against single-use plastic which has created an emerging need for plastic bag alternatives, particularly for retail businesses. There are lots of factors to consider when searching for the right reusable bag for your retail business. We get it, so we have streamlined the process. Learn more about some of the best reusable bags for retail and how to customize your bags.
Single-Use Plastic is Bad for the Planet
Single-use plastic bags provide convenience when shoppers are at the checkout, but that convenience comes at a cost. Plastic is bad for the planet. Single-use plastic bags are seldom recycled and are likely to end up as litter or just taking up space in landfills. This has pushed many consumers to voluntarily make the switch to durable, reusable bags. Many municipalities are also banning single-use plastic bags, creating an even higher demand for reusable bags.
Give Your Marketing an Edge
Reusable bags make excellent promotional products. Custom bags are a regular reminder to your customers about your brand. As your customers use your custom reusable bags they will essentially function like billboards, promoting your business and increasing the awareness and recognition of your brand. Custom reusable bags are really a win-win. Your customers and business cut down on the amount of single-use plastic put out into the world while you also market your business.
Here's what you need to know before you start designing your custom reusable bags.
Timing
Creating custom bags takes time, but the level of customization you select will determine the turnaround time. Other factors, like if you want to the bags for an event or by a specific date also come into play, so you need to plan accordingly. We offer a selection of in-stock bags, as well as an overseas selection.
In-Stock Selection
Our in-stock bags are already constructed and ready for printing. If you are tight on time or if you plan on ordering a smaller quantity, like a few hundred, ordering from our in-stock lineup is your best option. You just need to choose the bag style and color, send us your artwork and we can get started printing. We can turnaround in-stock orders in a few weeks.
Overseas Selection
If you want to alter the design of an existing bag, build out your very own bag, or if you want to order a large quantity then our overseas selection is the best fit. Everything about our bags can be customized, so if you want to add pockets or a D-ring, change the handle length or the size of the gusset or anything else really, we can do that. However, we need to do that at our factory. We can manufacture bags to your exact specifications, so you will get exactly what you want. Once we manufacture your custom reusable bags we can also print your branding info and your custom artwork directly on the bags. Ordering reusable bags through our factory typically takes 6 – 8 weeks.
Bulk Orders
Purchasing in bulk is a great way to maximize your marketing budget and secure an awesome deal. Our overseas factory is better suited to manufacturing bulk orders. We have a limited selection in stock, so if you need thousands of bags then this order will need to go through our factory. Your bags will be assembled just for you and for a great price. The higher the quantity you order the lower the price per bag. Ordering high quantities of reusable bags is only worthwhile if you need all of the bags you order, but if you know you can move a high quantity then it is definitely worth it to order a large amount.
Plastic Bag Alternatives
Here are some of our most popular alternatives to single-use plastic bags. All of these bags are great for retail use and everything is available from our in-stock selection as well as from our overseas selection to best fit your needs.
1. Hurricane Bags
Our reusable hurricane bags are built to last. Heavy-duty 120GSM fabric can easily handle demanding use and is also made from recycled content, making it an eco-friendly option. Both the bottom and handles are reinforced to make easy work of heavy loads.
2. All-In-One Grocery Totes
These reusable grocery totes feature durable construction and recycled content fabric, but what really sets these bags apart are the interior dividers. Pack bottles and heavy-weight items in the dividers to prevent those items from tipping and crushing more delicate items. The dividers also help to more evenly distribute the weight for comfortable carrying.
3. Eco Shopper Tote Bag
Smaller gussets and wider front and back panels give these shopper tote bags a narrow, low-profile design. When the straps are slipped over a shoulder, these bags are easy and comfortable to wear. Side pockets provide space to stash a grocery list, keys, a phone or other items within reach.
Get Started
Consumers want alternatives to single-use plastic bags, so give your clients what they want and create custom reusable bags that reduce the use of plastic while also promoting your business. For almost three decades, we have been helping our customers design their own custom reusable bags. During that time we have learned a lot about streamlining the process to save our customers time and money.
Let us put this knowledge to work for your business. We are available to help at every step of the way. Contact Factory Direct Promos today or click on the links above to get your personalized quote.
Tagged