Aldi's Ingenious Plan to Reduce Their Use of Plastic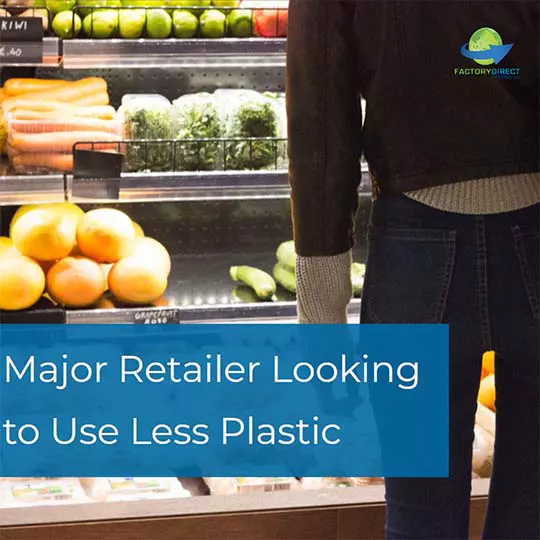 Retailer Staging Test to Determine Consumer Preference
Businesses and consumers are all looking for ways to reduce the use of plastic. Many shoppers opt to bring their own reusable shopping bags in order to use less plastic, and businesses are also looking for ways to reduce plastic use. The German grocery chain, ALDI, is trying to make a positive change at their UK stores.
Go Reusable Now
In the U.S., ALDI does not stock bags for customers. Shoppers can bring their own reusable shopping bags or use leftover cardboard boxes the retailer places near the checkout. This system works well and makes Aldi a great example of not only the possibility of using less plastic but also how easy it really can be.
Popular Demand
ALDI has given themselves the deadline of 2023 to reduce their use of plastic packaging by 25 percent. To help reach this goal in the UK, they have decided to use plastic bag alternatives. They will run a test in order to determine what that alternative will be. During the month of July, half of their stores will offer shoppers paper bags while the other half will have compostable bags available.
At the end of the trial period, ALDI will tally up how many bags were used to determine the popular choice. Whatever bag is the most used will be the option available at all Aldi stores across the UK. "This trial will identify the option which best suits our shoppers.
Cutting waste is part of Aldi's DNA and we are constantly looking for new ways to reduce our environmental impact," explains Fritz Walleczek, Aldi's managing director of corporate responsibility. "This new trial is one of the biggest we have ever launched because we want our customers to be involved and help us make the right decision for them and the environment," he said.
Plastic Bag Alternatives
Single-use plastic is bad for the planet. The environmental impacts can range from misuse of nonrenewable resources to entering the food chain and endangering animals and their habitats. Retailers and shoppers have options when it comes to using less plastic. Reusable shopping bags, even if made from recycled plastic, are an eco-friendly option. Paper bags and compostable bags are also green choices that reduce the use of plastic.
Going Green
Many businesses are trying to go green and reduce their use of plastic. Asking their customers to use less plastic may seem like a tricky proposition. However, as ALDI is demonstrating, involving their customers helps have a larger impact. Aldi is making their stance on green issues clear, including their customers in the final choice and even possibly inspiring their customers to do more.
"Reducing the amount of plastic we produce is fundamental to our commitment to being a sustainable and environmentally responsible business," explains Walleczek.
Take a Stand
If your business wants to go green and use less plastic or make it easy for your customers to use less plastic, reusable shopping bags are an excellent option. These eco-friendly items promote your brand while also helping the planet.
We have been in the business of creating custom reusable bags and other types of promotional products for almost 30 years. During that time, we have learned how to streamline the process, saving you time and money.
If you want to take your business green and use less plastic, we can help. Contact us to learn more and find out how much reusable shopping bags can help your brand.
Tagged