Plastic Bag Ban in Maine Finally Passes!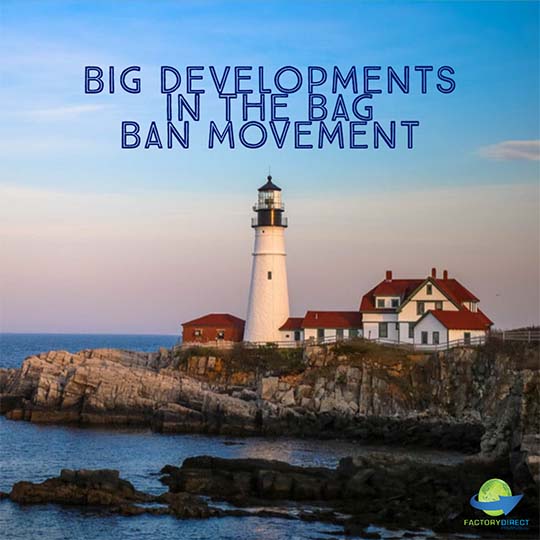 Pine Tree State Goes Green
Maine made a significant step recently when the governor signed a bill passing a state-wide ban on single-use plastic bags. This comes after several years of various cities passing their own bans or laws levying fees on disposable plastic bags.
We have been following the activity in Maine for a while now, and we are thrilled to see this proposal turn into a reality. You can get up to date on the entire bag ban movement by checking out our bag ban map. Learn more about the proposal in Maine, find out why people wanted to ban bags and what this ban means for Vacationland.
Details of the Ban
Maine's House of Representatives voted 91-52 in favor of the ban. More recently the State Senate voted 24-11 in support of the ban. This past Monday, June 17, Governor Janet Mills signed the proposal, making it official. The bag ban will become effective on April 22, 2020.
This is not the first state-wide proposal in Maine, and this bill has been amended to address concerns brought up during previous efforts. Maine's new bag ban will prohibit single-use plastic bags at retail establishments and impose a 5-cent fee on paper bags or reusable plastic bags handed out at the checkout.
Reusable plastic bags are defined as bags that are at least 4 mils thick and can withstand a minimum of 75 uses. The bag fee is not applicable to restaurants and stores with relatively few food sales.
Advantages of Going Reusable
Part of what prompted Maine to take action at the state level was the number of plastic bag bans and bag fees being implemented at the city or town level. Implementing a ban throughout the entire state creates more consistency and has a larger impact. Bag bans reduce the amount of litter which in turn can benefit the environment, local tourism and more.
Environmental Impact
As the damaging effects of plastic bag litter have become more visible, more people have decided to take action. Single-use plastic bags are made from nonrenewable resources, like natural gas and petroleum. These bags are in fact recyclable, however, they are challenging to recycle, so many recycling facilities do not accept them.
Most single-use plastic bags are destined to end up in landfills or as litter. Both of these outcomes prove to be an inefficient use of nonrenewable resources. Plastic bag litter is a serious problem for animals and their habitats. This is particularly true near the water. Animals that live in ponds, lakes, rivers, and the ocean can become tangled in discarded plastic bags, or mistake the bags for food. Both of these situations can have fatal consequences.
Maine's famously rocky coast stretches over 3,478 miles, making the problem of plastic litter in the ocean a very serious and visible reality.
Growing Movement
Now that Maine has passed their single-use plastic bag ban, they join the ranks of California and New York. Both the Golden State and the Empire State have passed bans, however, New York's ban will not become effective until next year.
Hawaii deserves an honorable mention when discussing state-wide plastic bag bans. They do not officially have a state-wide ban, but each county in Hawaii has passed bag bans, effectively banning single-use plastic bags throughout the entire state.
Maine is the most recent, but they will not be the last state to pass a state-wide bag ban. Vermont is ready to follow Maine's lead. Connecticut and Massachusetts are also considering plastic bag bans of their own.
Let's Stay in Touch
Sustainability is something we are very passionate about and we are proud to help our customers and their customers use less plastic. You can learn more about efforts to ban single-use plastic bags by checking out our map.
As always, this is a work in progress, so please reach out if you know of any locations that need to be added or updated. Stay current on green news, bag bans, eco specials and more by signing up for our newsletter.
Tagged