The Top 10 Blogs the Best in the Recycling Industry Are Reading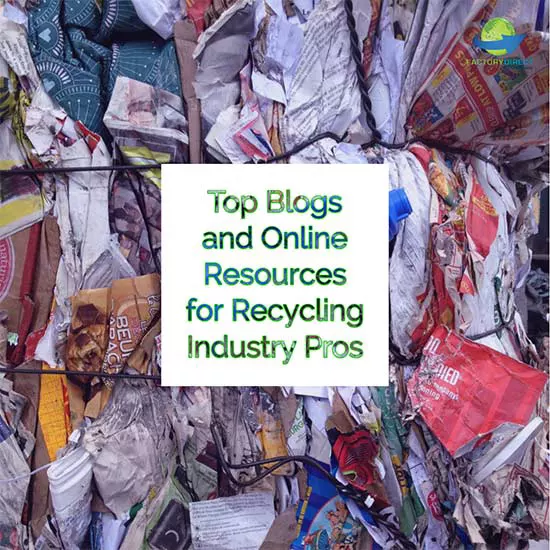 Stay Up-to-Date with Recycling Developments from These Industry Leaders
The recycling industry is a large and diverse group with the common goal of finding effective and innovative ways to streamline the process of recycling. There has been and will continue to be significant progress in the recycling industry as technology is developed and used more extensively.
Increased interest and demand for recycling on the consumer end of things has also drawn more attention to the inner workings of the industry. If you want to learn more or connect with other industry professionals, here are the 10 top blogs and resources for recycling industry professionals.
These top recycling industry resources, blogs, and associations are in no particular order and although we may not make mention of it in each case below, many offer job listings, events, training, and certification. We cannot urge you enough, to check out these resources, subscribe to their newsletters and follow them on social media.
Top 10 Blogs and Online Resources for Recycling Industry Pros
1. SWANA
SWANA (Solid Waste Association of North America) is exceedingly important to our mission to help increase recycling rates through the use of our reusable recycling bags in multi-family dwellings and beyond. They offer a plethora of information on everything from safety, training, certification, and products, to events, research, advocacy, and breaking news. A top pick for any recycling industry pro.
2. The Recycling Partnership
Through taking action at the community level, The Recycling Partnership strives to improve recycling and ultimately protect resources. Collaborative success is achieved by bringing people from different sectors together to work towards a common goal. Resources are offered including ways to fight contamination, ideas to engage the community, to grant information, if you are working at the community level, check this site out.
3. Waste360 (RRS)
Waste360 is a leader in information, education, events, and more for the recycling and solid waste industries. Check out their website to learn more about recycling and sustainability and how these practices influence communities both large and small, create jobs and so much more. Offering information on everything from fleets and technology to automation, this is one recycling resource you certainly want to subscribe to.
4. National Recycling Coalition (NRC)
The National Recycling Coalition works towards improving and promoting recycling throughout the United States. A large network of more than 6,000 members work together to help this non-profit make major strides in waste reduction and improved management of raw materials. Although their website doesn't offer a lot of visual bells and whistles, hone in instead on their webinars and National Zero Waste Conference. A great recycling resource you will learn from again and again.
5. Recycling Inside
Technology is utilized to improve every aspect of the recycling industry at RecyclingInside. Learn about the latest innovations in the recycling industry at a global level. News on the markets from everything including plastic recycling to construction and demolition recycling and everything in between. Technology zones, equipment guides and an "Ask the Expert" section (you can become an expert) round out this incredible recycling resource.
6. Waste Dive
Waste Dive takes an in-depth look at the entire recycling industry and strives to report on impactful and relevant news and trends. With a handy "Top Stories" section and news on Organics, Waste Dive certainly dives into the industry even including a corporate perspective. A library full of recycling industry insights and research is just part of why we love this resource. Waste Dive also includes a helpful jobs section as well as an opinion section – you can offer yours HERE.
7. Recycling Today
If you want the inside story about the latest developments and happenings in the recycling industry then you need to check out Recycling Today. From ideas that transform your recycling business to industry tools including supplier spotlight, buyer's guides, and classified ad directories, this is a don't-miss resource for recycling industry professionals.
8. Institute of Scrap Recycling Industries, INC (ISRI)
Scrap facilities are where recyclables are processed and turned into new and useful materials. The Institute of Scrap Recycling Industries, INC is a collection of recycling industry professionals who promote responsible and effective resource management. From facts and figures including white papers, research, and analysis to an interactive resource that assesses the economic impact of recycling state by state, this site delivers unexpected value for recycling industry pros.
9. Resource Recycling
Learn more about developments in the recycling industry as a whole, as well as an in-depth analysis of more specific sectors by checking out Resource Recycling. We especially love their E-scrap News section and their industry conference calendar.
10. Recycling Product News
Recycling Product News has a complete rundown of trending stories and developments in the recycling industry. They also extensively cover emerging technologies and product information to keep industry pros knowledgeable and current on the latest developments. Be sure to take a minute to visit their video section.
Stay Connected
The recycling industry is always growing and improving and staying current with everything can be overwhelming. All of these resources keep you connected and current and help you learn about the latest technologies and the direction the industry is taking.
We thank everyone in the recycling industry for all they do. We know it's not easy. We want you to know that we are doing our part to support the recycling industry with our wide choice of recycled grocery bags and reusable recycling bags – that simplify multi-family recycling. We hope you find these blogs and informative websites helpful to stay up to date on the recycling industry.
Let us know if we missed any great resources and sign up for our eco-newsletter on this page so we can stay in touch!
Tagged