#StatesBanTheBag Update on Plastic Bag Bans in the USA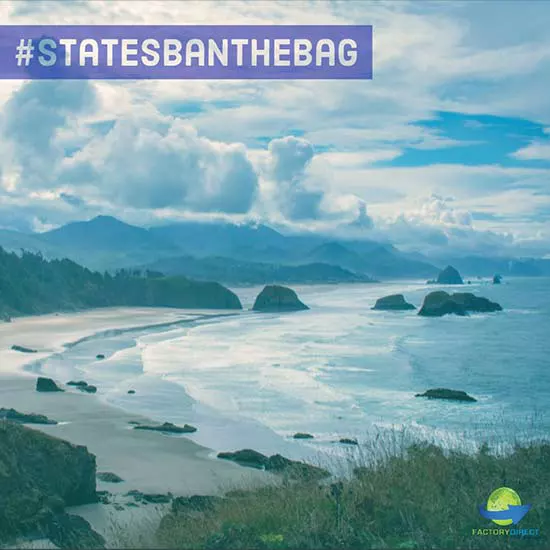 Find Out Which States are Going Green in the New Year
Over the past summer, we launched our series, #StatesBanTheBag. The goal of this series was to highlight the efforts to ban single-use plastic bags at the state level. We already track the bag ban movement on our plastic bag ban map, but this series looks specifically at state-wide bans. The bag ban movement is still going strong, and there have been some developments at the state level since we last wrote about it. We wanted to catch back up with the state-wide bag ban movement and find out just what's going on and which state is the latest to implement a disposable plastic bag ban.
Oregon Bans Plastic Bags
Oregon has long been at the forefront of the bag ban movement, but the statewide ban only came about relatively recently. In 2011, Portland became the first city in Oregon to pass a single-use plastic bag ban. The state-wide bag ban was approved in July of 2019 and became effective on January 1, 2020. The Oregon bag ban on single-use plastic bags under 4 mils thick and mandates paper bags made from at least 40 percent recycled content can be available for a 5-cent fee.
Connecticut Part Way There
In early 2019, Connecticut lawmakers took up the idea of doing something to regulate single-use plastic bags. Litter is a serious issue and with so many residents and abundant shoreline, plastic litter was a problem Connecticut residents took very seriously. So seriously, in fact, that over 20 towns and cities took up the issue and passed bag bans of their own before the issue came to the state level.
Initially, the plan in Connecticut was to implement a fee. Plastic bag fees are effective at discouraging many shoppers from using single-use plastic bags, so the notion of a 10-cent gained support. In a matter of months, the dialog had changed from a fee to an outright ban. In March of 2019 Connecticut passed legislation around single-use plastic bags. A 10-cent fee rolled out on August 1, 2019. The fee will give way to a plastic bag ban on August 1, 2019.
Aloha State Making Progress
Whenever there is talk of state-wide plastic bag bans, Hawaii often gets mentioned. Hawaii does not technically have a bag ban, although single-use plastic bags are banned for all practical purposes. Honolulu County recently rolled out the last phase of its bag ban. Honolulu first banned plastic bags back in April 2012, however, the law was amended several times to stay true to the objective of the ban. On January 1, 2020, all plastic bags, regardless of the thickness were banned throughout Honolulu County.
Upcoming Statewide Plastic Bag Bans
Oregon joins California as the only state to implement a state-wide plastic bag ban, although they'll have company soon enough. A total of four states have passed state-wide plastic bag bans which will roll out in the next year or two.
New York's ban to start on March 1, 2020.
Maine's ban to start on April 22, 2020.
Vermont's ban to start in July of 2020.
Delaware's ban to start on January 1, 2021.
Keeping Tabs on the Bag Ban Movement
It's exciting to see a bag ban goes into action after watching all of the hard work that went into making it happen. We want to offer our sincere congratulations to Oregon, and we look forward to the additional bag bans that are about to happen. Bag bans create a need for reusable shopping bags, which in turn creates an opportunity for reusable bags for marketing. Reach out if you want to learn more about how to put custom reusable bags to work for your business.
Tagged