Exploring Reusable Bag Options with Dye Sublimation Printing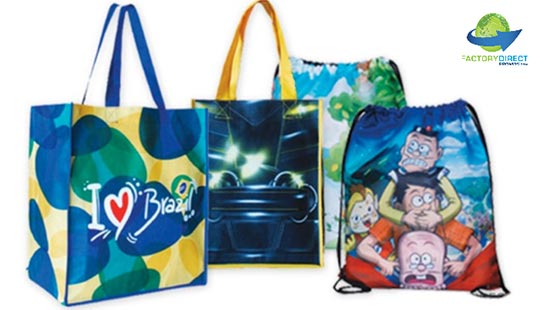 Make Your Branding Message Stand Out with Dye Sublimation Printing
Custom reusable bags are highly effective promotional products. Much like how different styles of bags appeal to different demographics, you may want to also think about the printing method used to customize your bag of choice.
Our selection of dye-sublimation bags are available in a variety of styles, but they all feature the same printing method.
Learn more about dye sublimation printing and find out why you may want to consider this printing method for your next custom reusable bag.
Understanding the Process
What sets dye sublimation apart from the other printing methods we offer is that it supports a high level of detail and edge-to-edge printing while providing a cost-effective way to print multiple colors.
Dye sublimation uses temperature and pressure to transfer digital graphic images to fabric. The dye from the images bonds to the fabric transferring the graphics to the material.
The end result is digital photo-quality and it resists fading, cracking, and peeling.
Advantage of Dye Sublimation Printing
Dye-sublimation printing makes it possible to print lots of vivid color and detail in one pass. We can also print on the entire surface of the bag, so you can have artwork that carries from the front to the bottom or sides or whatever you envision.
Dye sublimation opens up a lot of opportunities in terms of the graphic design elements of your promotional bag.
Find out what type of dye sublimation bag options we have available.
1. Custom Sublimation Bags – Laminated
These bags are available in two sizes and feature a smooth, laminated material. Your custom artwork can be printed on all panels to really maximize your message across this custom bag. The handles and trim are a solid color.
2. 2-Sided Sublimation Bags – Laminated
The front and back panels of these laminated reusable bags support full-color dye sublimation printing, allowing you to feature vivid, eye-catching artwork.
The gussets, or side panels, along with the handles, and trim are available in six different colors, allowing you to select something that will compliment your artwork and the overall look of the bag.
3. Custom Sublimation Bags – Non-Laminated
The non-laminated material of these reusable bags supports full-color, edge-to-edge printing for the possibility of artwork that appears to wrap around the entire bag.
The non-laminated fabric is soft and has a slightly textured feel.
4. 2-Sided Sublimation Bags – Non-Laminated
These two-sided non-laminated reusable bags come in at a lower price point since they only support dye-sublimation printing on the front and back panels.
Create a cohesive look by selecting a coordinating color fabric for the gussets, trim, and handles.
5. Custom Dye Sublimation Drawstring Bags
The front panel of these drawstring backpacks support dye sublimation printing, so your branding message will be in full color and on display every single time your customers wear this bag.
The cinchable bag has a spacious interior that will create plenty of space for your customers to take what they need to class, work, the gym, or wherever they need to go.
We Make It Easy
Dye sublimation is another option that allows you to customize your reusable bags in a way that best serves your brand.
Detailed artwork in vivid colors will ensure your branding message stands out and is seen. We have been in the business of crafting reusable bags for more than a decade, so we can guide you through the process and make it easy for you.
Shop our dye sublimation bags now and get your customized quote!
Tagged