Texas Supreme Court Rules On Plastic Bag Bans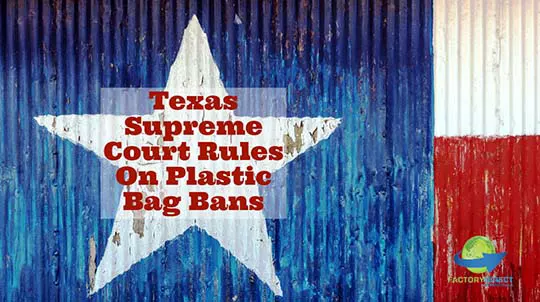 Future of Plastic Bag Bans Uncertain in Lone Star State
Plastic bag bans have been sweeping through Texas, but that may soon change. The Texas Supreme Court recently made a ruling that will put an end to the bag ban in Laredo, and may impact other bans throughout the state. Many Texan cities have had plastic bag bans in place for several years, so even if the ordinances are overturned, residents will likely continue to use reusable bags. However, this ruling will possibly discourage other cities from implementing plastic bag bans. With a continued need, customized reusable bags will still be useful in Texas, but the use of these bags may become optional.
History of Plastic Bag Bans in Texas
Brownsville was the first Texas city to pass a plastic bag ban, as well as being one of the first cities in the United States to pass such an ordinance back in 2011. Brownsville officials were motivated to pass a ban after litter, primarily disposable plastic bags, clogged drainage systems, resulting in flooding and damage. Austin, South Padre Island and several other cities followed with plastic bag bans of their own, starting in 2012.
In Laredo, the City Council passed a disposable bag ban of their own, which went into action on April 30, 2015. Officials maintain the ban was intended to reduce litter and trash to keep the city clean and beautiful, while also reducing instances of clogged storm drains. Shortly after this ordinance became effective, the Laredo Merchants Association filed a lawsuit against the City of Laredo.
Details of the Lawsuit
The case made by the Laredo Merchants Association focused on a non-binding opinion issued by a previous Attorney General. This statement indicated plastic bag bans are legal if are not intended to impact solid waste management. The resulting legal case focused on whether or not single-use plastic bags are solid waste. The Texas Supreme Court ruled that they are, and this makes the Laredo ban illegal.
Next Steps
The office of the current Texas Attorney General has reached out to the 11 cities which have plastic bag bans in place, letting them know their bans are now illegal. At this point, most of the cities are working with their legal teams to evaluate the situation and determine how to best proceed.
Do Your Part to Help Reduce Trash
It is disheartening to see the hard work put in by local governments overturned, but it is possible these municipalities will find a way to keep their cities clean while also aligning their ordinances with state laws. Making the switch to reusable grocery bags is a great way to use less plastic and reduce trash, while also increasing the awareness and recognition of your brand.
We have been in the business of creating unique and effective promotional bags for almost 30 years, so we can show you how it's done. Learn more about customized reusable bags and what they can do for your brand and the environment.
Tagged