Wholesale Reusable Bags in Bulk? Why Certified Bags Are Best!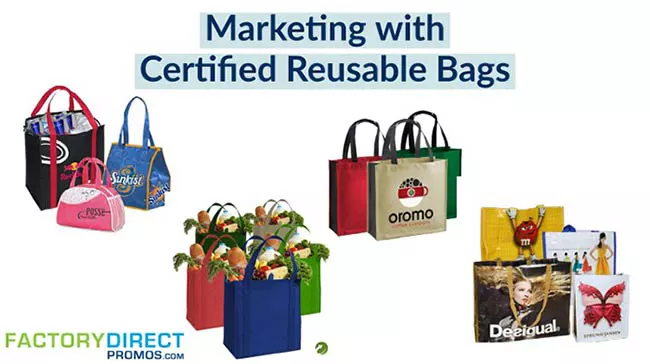 Make the Most of Your Marketing Budget
Wholesale reusable bags are a great way to connect with your customers and position your branding message in front of a wider audience, all while securing a great price. Finding the right partner to help you create the perfect certified reusable bags for your business matters and we want to explain why we're the right partner for you and certified reusable bags are the best.
Go Big with Your Reusable Bags!
Wholesale ordering effectively works by spreading the cost out over a larger quantity. So as the quantity increases, the price per bag decreases. Wholesale reusable bags in bulk let you lock in a low price per bag, so you can stretch your marketing budget and get the most value.
Longevity and Direct Connection
We've been in business for over a decade, so we have plenty of experience designing and manufacturing wholesale reusable bags. We put this knowledge and expertise to work for each of our clients in order to create a unique and custom bag.
We also work directly with our factory. This direct relationship streamlines the manufacturing process, saving time and money and we pass these savings along to our customers.
What's perhaps the biggest advantage of working directly with our own factory is that we are able to offer a very high level of customization.
Everything about our bags can be customized, so if you can dream it up, we can make it happen.
Certified Reusable Bags
We also offer a wide selection of certified reusable bags. This means the bags are approved by CalRecycle and designed to hold up under regular use. What does that mean? It means a lot to your brand's reputation.
The longer custom reusable bags last, the more they will promote your brand. Well-made bags that can provide dependable use will garner a lot of exposure for your business and prove to be very effective marketing items. These bags also represent your business, so when your customers know they can count on your bags, they'll realize they can also count on your brand.
Order Your Way
Two ordering options make it easy to order in a way that best works for you.
Our in-stock selection is ready to go. Just select your bag, send us your artwork and we'll quickly turn your reusable bags around. Our in-stock bags are a great option if you have a tight turnaround or if you need a small quantity.
Our bulk and custom ordering takes a bit longer because your bags will be made to order, but the end result is something completely and totally custom to your brand.
Create a wellness bag that has special pockets for earbuds and a phone, as well as resistance bands, and water bottle pockets on both gussets.
Create customized shopping bags that have a boarded bottom for stability and separate compartments to keep items secure.
Your bags will not only match your branding colors exactly, but the bags will match your specifications perfectly.
Order Your Wholesale Reusable Bags
We're here to help you promote your brand in a meaningful and cost-effective way. We hold ISO certification and we've worked with many industry leaders, including American Express, Bank of America, Carnival Cruise Lines, Pepsi, The Home Depot, Whole Foods, and more.
Call us with any questions at 866-222-0949 or get your customized quote now on any of our certified reusable bags for marketing and retail use.
Tagged