Plastic Bag Bans and Your Brand Can Help Save The Penguins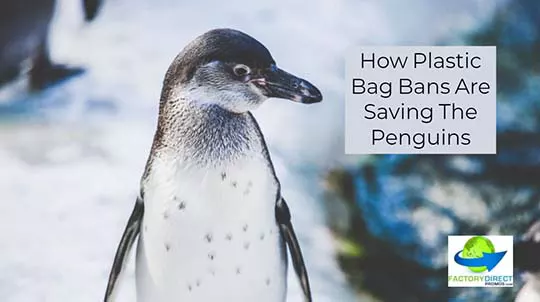 Plastic Litter Having Harmful Impact on Penguins
Plastic pollution is bad news, and conversationalist Pablo Borboroglu can attest firsthand to the deadly damage plastic litter can wreak on the environment and the animals who call it home. As the founder of the Global Penguin Society, Borboroglu has spent decades working across the southern hemisphere and during this time he has discovered the necessity of plastic bag bans.
Dangers of Plastic Litter
Plastic litter is not biodegradable, which means it will not safely break down. When single-use plastic water bottles or grocery bags are discarded they will stick around. Wind and water can carry items away, so this unsightly and harmful trash can do damage all over the world. Trash poses a serious risk to animals and their habitats. Borboroglu has witnessed penguins tangled in disposable plastic bags and water bottles. The animals are unable to free themselves and the plastic litter can prevent them from being able to fend for and protect themselves.
Hurting Vulnerable Species
In instances of species with low numbers this additional threat can present an even greater danger. Borboroglu created a wildlife reserve for penguins after discovering a colony that was on the verge of disappearing. In 10 years the reserve has fostered the growth of the colony from six pairs to 1,750 pairs of penguins. Plastic litter is now a major threat to these penguins.
Plastic Bag Bans Provide a Solution
The easiest and most effective solution to the plastic litter problem is to eliminate single-use items that are likely to end up as litter. Without disposable plastic items, the harmful impacts of litter are eliminated. Plastic bag bans do just that and are proven to minimize discarded trash. With so many reusable options available, it is easy to find eco-friendly durable alternatives that can fill in for single-use items.
Your Brand Can Make a Difference
Put an end to single-use plastic items and go reusable with your marketing. Reusable items take the place of disposable items and help the environment. Reusable products make excellent promotional tools because they serve as a constant reminder of your brand. Learn how to put reusable items to work for your brand to make a difference and help the environment while also promoting your business.
Custom Reusable Bottles
Custom reusable bottles come in many shapes and sizes from insulated mugs to keep coffee or tea warm or tumblers with a built-in straw for mess-free sipping and metal bottles that make it easy to stay hydrated on the go. Choose the type of reusable bottle, the material and then design custom artwork to have printed on the exterior of the bottle.
Custom Reusable Bags
Help market your Brand and help put an end to the use of disposable plastic bags with custom reusable bags. Durable construction enables these bags to be used for years on end. One reusable bag can do the work of thousands of single-use plastic bags.
Do Some Good with Your Brand
Plastic bag bans minimize litter and the harmful impacts of pollution to help wildlife and the planet. Penguins are just one example of wildlife that can fall victim to the troubles of plastic litter. Promoting your brand with reusable promotional bags and bottles increases awareness and recognition around your business, while also doing right by the planet. Plastic bag bans are becoming increasingly common, so promoting your brand with reusable bags helps the planet, your brand and your customers impacted by bans.
We have been in the business of creating customized promotional products for almost three decades so we know how to make the process easy. Get in touch to learn how to customize any of our products to promote your brand and help wildlife.
Tagged