Go Sustainable with Your Marketing Promotional Kit!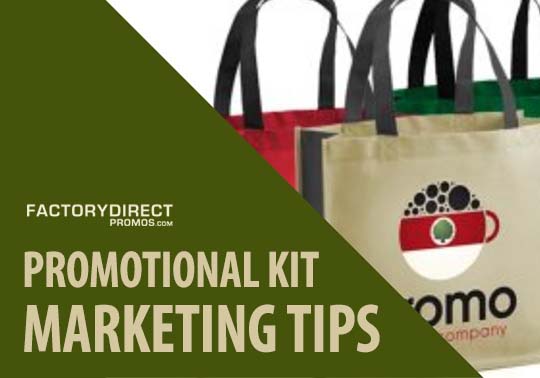 Tips to Connect With Your Clients
Promotional kitting is a hot trend in marketing right now. This is something we have a lot of experience with and we can help you create the perfect promotional kit to showcase your brand while going green. Find out what exactly promotional kitting is, why green marketing matters, and how we can help you tie it all together in a meaningful way.
Understanding Promotional Kitting
Promotional kitting is basically a gift bag or swag bag containing a variety of items intended to educate and inform your customers about your products or services. If you are promoting a new item or the launch of a new service or website, promotional kitting can be a great way to let your customers, members of the media, and key contacts in the industry know what's going on.
There is just so much more bang for your buck that comes with promotional kitting. Consumers love to receive promotional gifts and when you give more than one promotional item in a customized package, it's a home run for your business.
Uses of Promotional Kits
You can utilize promotional kits for the holidays, product launches, special events, safety recognition rewards, giveaways to key contacts at in-person and virtual trade shows, and more. Not only will your branding benefit with more impressions than when gifting one promotional item, but you'll also make an even greater impression on your key contacts, employees, prospects, and clients.
Studies show from the Advertising Specialty Institute (ASI) that consumers are more likely to do business with a company that provides them with a promotional gift. Plus, when consumers receive a promotional gift that is sustainable, they are more willing to pay a higher premium for the services or products that the company offers.
Creating a sustainable promotional kit for your key contacts just makes sense for your bottom line.
Create Your Promotional Kit
We offer a variety of items that can be used to create a personalized, customized, sustainable promotional kit for your marketing needs. Some of the products that we have such as our eco-friendly promotional items, like custom pens made from bamboo or pens made from recycled bottles, recycled paper pens, eco-friendly lanyards, and eco-friendly notepads.
We also offer eco-friendly seed paper items that make an excellent addition to your sustainable promotional kit. Seed paper is paper embedded with seeds. The paper can be printed and die-cut into different shapes and used to relay information to key contacts. The item can later be planted in soil, the paper will break down and the seeds will germinate and plants will grow. The plants will be a reminder of your brand, but the experience of planting the seeds and watching the plants grow will stick with your customers and help them remember your brand, so toss in a seed paper business card to top off your kit!
The final item you need to create your sustainable promotional kit is the perfect packaging, our custom reusable bags.
Create Your Promotional Kit
For over a decade, we have helped our clients create custom reusable items that help them connect with their customers while also going green. We have streamlined the entire process to be as efficient as possible, so you can secure a great price and take advantage of our fast turnaround times. Our client list includes American Express, Bank of America, Carnival Cruise Lines, Pepsi, The Home Depot, Whole Foods, and more and we want to add you to this list.
Call us at 866-222-0949 for help choosing the perfect items for your customized, sustainable promotional kit. Or get started on your packaging design and use our interactive tool. You can create the perfect customized reusable bags for your promotional kit.
Tagged