Holiday Seed Paper Products Plant Seeds of Hope for 2021!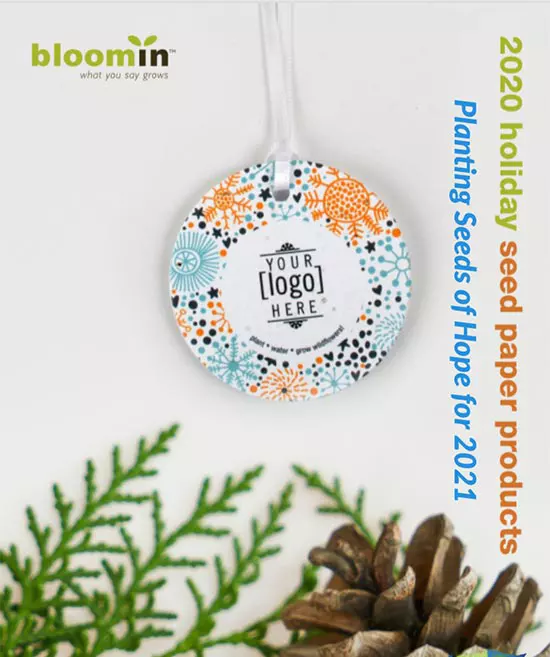 Share Your Appreciation and Hope for the New Year
You deserve a pat on the back and more for making it in business this year.
There have been so many unexpected twists and turns and constantly changing guidelines and practices. Managing to stay on top of it all is a serious accomplishment. Now is also the time of year to start looking ahead to create plans and set the tone for the New Year.
If ever there was a time to extend your gratitude to the people in your professional life, it is now.
One of our more inspiring items, seed paper products, are a great way to express your appreciation.
We can help you take care of your employees, customers, prospects, and key contacts with an eco-friendly, meaningful, experience that will keep your organization top of mind.
Let's plant seeds of hope for 2021! 
Order Early
You stand a lot to gain by taking care of your holiday card and corporate gifting needs early.
You can secure the best pricing possible and be able to roll with or completely avoid any unexpected shipping delays. Placing your order early also lets you cross a big item off your to-do list so that's one less thing you need to worry about as the holiday rush begins to set in.
Types of Seed Paper Products Available
Seed paper is paper with seeds embedded in the fibers of the stock.
The paper can be planted in soil and with time the seeds will germinate and grow into plants. The paper will safely breakdown, or biodegrade. Seed paper is a great marketing item because it is something your customers can engage with and it creates a memorable experience.
We offer two types of seed paper items.
Fully plantable items are made entirely from seed paper and the entire item can be planted.
Our selection of integrated plantable shapes features die-cut shapes made from seed paper that is paired with a marketing handout not made from seed paper. The seed paper shape can be planted and create a unique experience, but your customers can hold onto the handout and retain the information printed on that piece.
Find the Right Seed Paper Gift
Our selection of seed paper items features a variety of designs and different items.
Everything can be customized to include your branding, contact info, holiday message, and anything else you wish to convey.
We love seed paper products so much that we have used them in combination with reusable bags many times for our own marketing purposes.
1. NEW! Gift Card Holders

Gift cards always make a great gift, but these gift card holders made from seed paper create a memorable and unique enclosure, complete with your logo, that your recipients are sure to remember.
2. Pre-Designed Ornaments

A wide array of holiday-themed ornament designs will convey your holiday wishes and your branding info while creating a timely decoration.
3. Ornament Shape Packs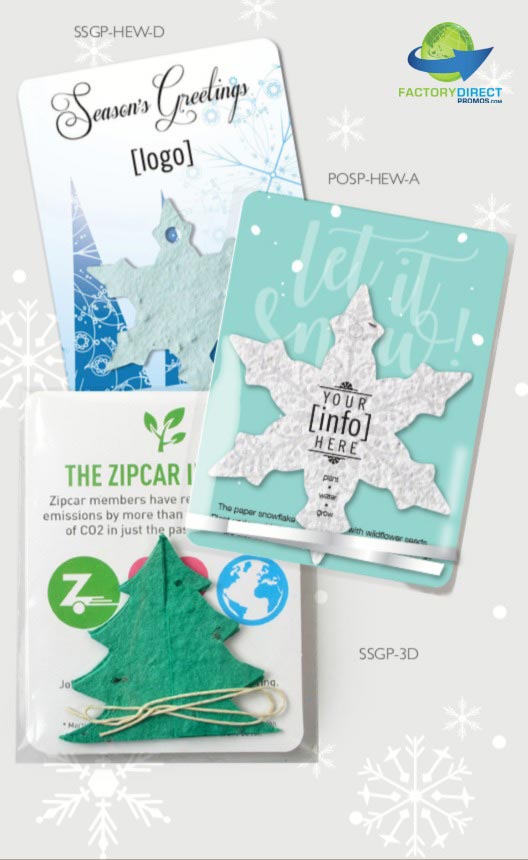 Our seed paper ornament shape packs feature an ornament made from seed paper that can be printed with your branding information. Each shape is included in a pack with a card that can be printed with additional information. This additional information allows you to convey a longer message or more information that you want to share with your customers.
4. Greeting Cards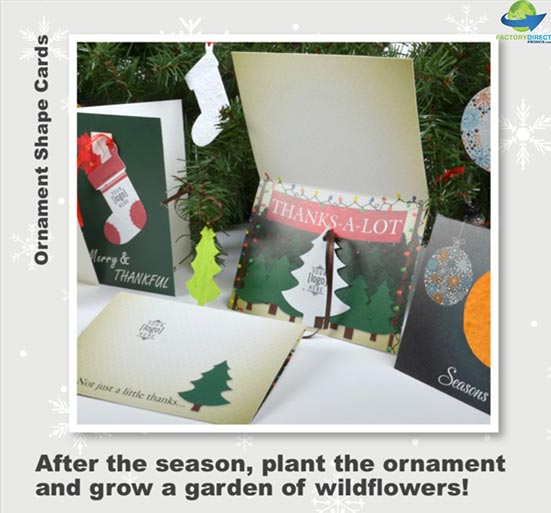 Greeting cards are a classic way to let your customers, employees, vendors, and other key contacts know you are thinking about them.
You can also use these seed paper greeting cards to say thank you with our NEW customer appreciation and employee recognition ornament cards.
We also have other types of seed paper cards like fully printable greeting cards and new designs and postcards printed with trending Pantone colors.
5. Vintage Holiday Collection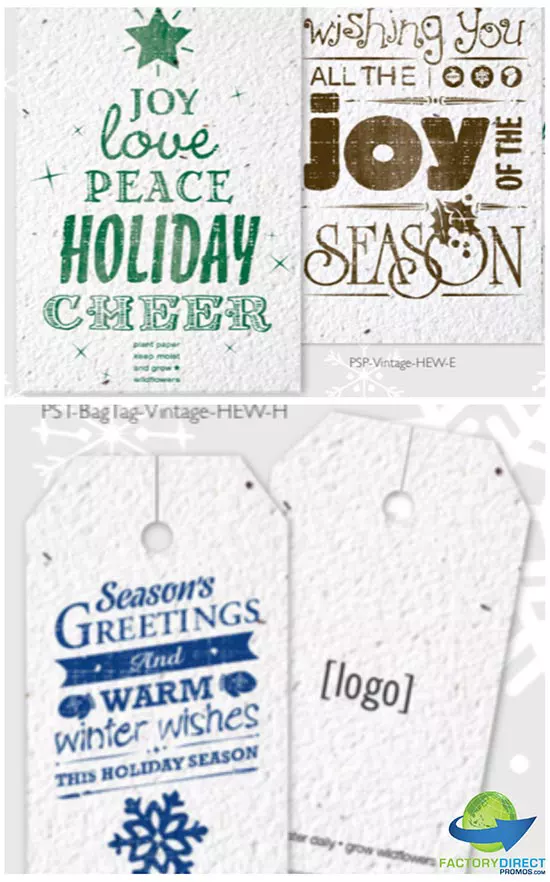 This curated collection of seed paper items feature classic holiday designs all printed on seed paper. These vintage seed paper cards create special memories and nostalgic feelings that create good feelings.
6. Holiday Seed Paper Matchbooks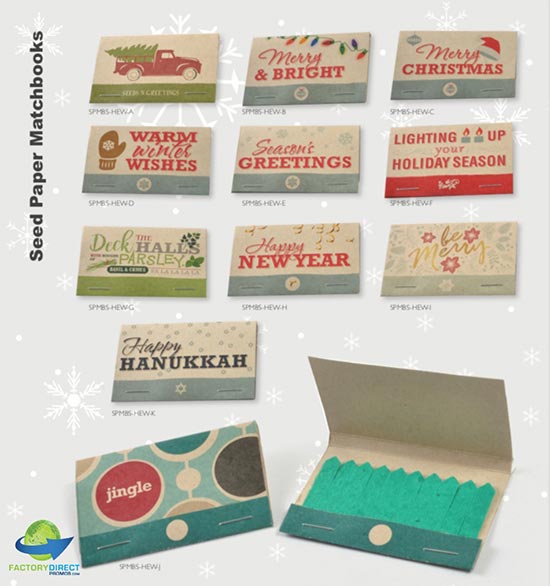 Give a vintage gift a modern update by creating your very own matchbook cover design. These matchbooks feature 'matches' made from seed paper that can be planted, allowing your customers to hold on to the cover as a keepsake.
7. Seed Paper Tags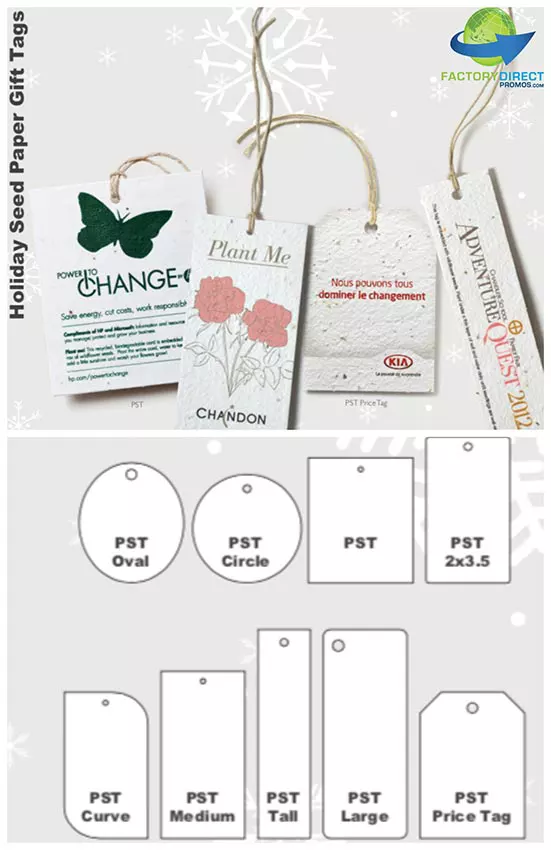 If you have plans to give a wrapped gift you can include a custom gift tag made from seed paper. This will allow you to create a more unique gift experience to further leave a good impression with your employees, customers, and vendors.
You can even take it a step further and create price tags or ANY TAGS from seed paper.
8. Planting Kits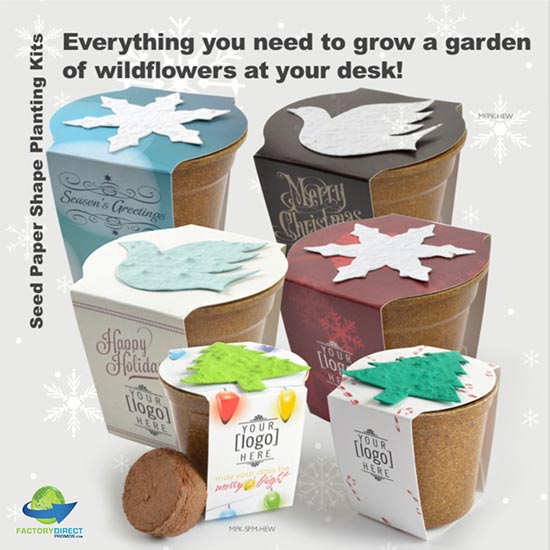 These compact seed paper planting kits are adorable, memorable, and include everything needed to start a mini garden. A seed paper shape can be planted in a biodegradable cup containing soil. The entire kit is wrapped in a sleeve that can be printed with your branding and artwork.
9. Seed Packs and Pocket Gardens
Seed packs come in many different holiday-themed shapes and colors. You can select just the right look to promote your brand and send your best wishes.
10. Seed Paper Bookmarks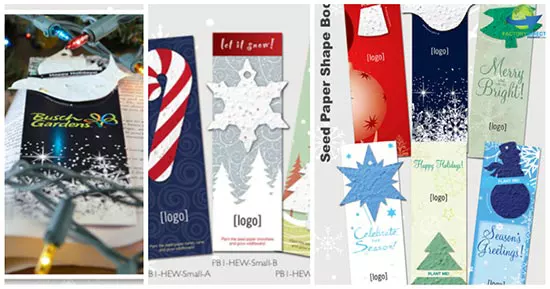 Bookmarks are another classic item that can be updated with seed paper. Whether they are used to mark a place in a novel or a notebook they will convey your holiday sentiments while also providing a memorable experience.
Spread Cheer and Hope
We love helping our customers create eco-friendly, unique, and memorable marketing items that work.
And we are very excited to partner with Bloomin™, the original worldwide authority on all things plantable seed paper, to bring you all of these seed paper items.
One of the reasons we work with them, along with MANY OTHERS, is because they have the highest germination rates in the industry!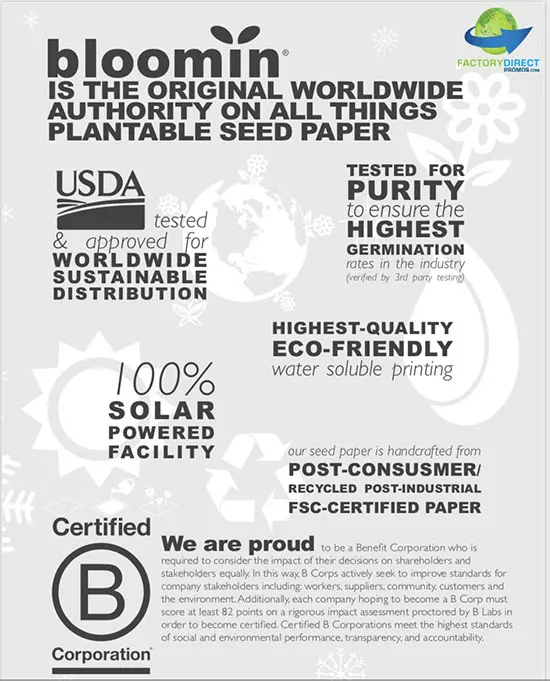 Let's Create Something Special for You!
We've been creating custom, eco-friendly promotional items like seed paper for over 10 years. Plus, the founding brand of our parent company has been around for almost 100 years so we have the staying power you can trust!
We know how to make creating custom promotional items easy and affordable.
Ask about special pricing on our holiday seed paper items!
This year has certainly been challenging in so many unexpected ways. We find inspiration in the way so many of our team members have pulled together to help one another and our customers. Now we want to help you express your holiday wishes to the people who matter most to your business.
Contact Factory Direct Promos today to get started planting seeds of hope for 2021.
Tagged