Retail Goes Plastic and Package Free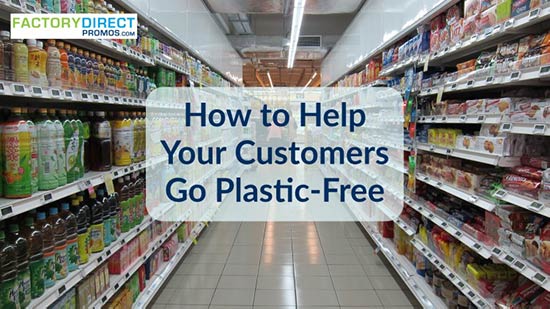 Help Your Customers Go Green
Eliminating single-use plastic can be a big step, and it's a step that a lot of consumers have taken and even more are considering taking. Many retailers have taken notice and are reducing and even completely doing away with unnecessary plastic. This sustainable approach to retail business can have a positive impact on local communities and the planet, but it can also appeal to green-minded customers.
We make it easy to use less disposable plastic while also marketing your brand through the use of custom reusable bags. Find out how you can go plastic-free with your retail business and how we can help.
Disposable Drawbacks
Plastic can be very useful and a great aspect of plastic is that it can be recycled and continually remanufactured into new and useful products. The problem with single-use plastic is that it suffers from low recycling rates. Thin plastic, common to disposable shopping bags and packaging material are difficult to recycle, so many recycling facilities do not accept this type of material.
Disposable plastic is bad for the planet. When plastic is not recycled, it is likely to end up in a landfill or possibly even as litter. This can be damaging to animals and their habitats, but it is also a loss of useful materials. When existing plastic is not recycled, new materials must be used to create more plastic to replace what was lost.
Plastic is made using nonrenewable materials, and while we currently have a vast supply, we will run out at some point. Responsibility managing nonrenewable resources now can help extend how long we'll have these resources and allow us to put these materials to better use.
Your Brand Can Help Customers
Studies show that 45% of consumers said they avoid using plastic whenever possible. This is a substantial number. Whether you have a retail business or if you are a marketer, reusable bags are a great way to help your customers use less disposable plastic and help your brand. Providing reusable bags eliminates the need and use of disposable bags, so your business is not contributing to the plastic problem and your customers can stay true to their green objectives.
Reusable bags are also a smart marketing choice. The reusable nature of the bags ensures your marketing message is on regular display. As your customers use your branded bags not only will they be reminded of your business, but they will also endorse your brand to a wider audience.
Certified Reusable Bags
The bag you choose to customize matters, and it's important to select a bag that can handle regular use. Our selection of certified reusable bags is the perfect option. These bags have been tested and confirmed by CalRecycle, a leader in sustainability.
Essentially, these bags are designed and constructed in a way to ensure they can hold up against normal and consistent use. This matters because one reusable bag can eliminate hundreds, possibly even thousands of single-use bags. If your customers are making the switch to reusable bags to eliminate disposable plastic, they need a dependable bag. Certified reusable bags also matter because they represent your brand and the longer they last and the more use your customers can get from them, the more exposure your brand will receive.
We Make It Easy
We work directly with our factory, so we have made the entire process from design through production very easy. Steps are streamlined to simplify the process, but also make it more efficient. This means we can more quickly turnaround orders while securing low wholesale pricing.
To best fit your project, we offer two ways to order. Bags from our in-stock selection are already manufactured, so we can quickly customize them with your artwork. This is a great option if you need your bags right away, or if you need a small quantity.
We also offer bulk and custom ordering options. In this instance, your bags will be made to order, so it allows for a much greater level of customization. Alter the length of the handles, add pockets, or anything else to make the bag unique, functional, and best represent your brand. Increasing the quantity helps bring down the unit price, so our bulk and custom ordering options can be a great way to secure an even better return on investment.
Bulk and custom orders require a longer turnaround since the bags are made to order. For this reason, we stress the importance of ordering early. Not only will you have your bags sooner, but placing a bulk order can help ensure you get the best price possible.
Reach Out to Learn More
Call us at 866-222-0949 to get started creating your custom reusable bags. Don't want to wait? Use our interactive tool and you can create customized reusable bags for marketing or retail.
Tagged