9 Promotional Seed Paper Ideas to Get Your Summer Marketing Growing!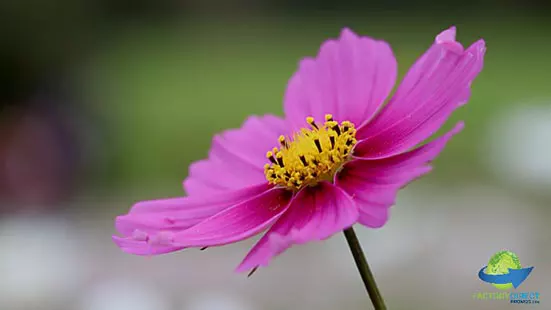 How to Grow Your Brand With Seed Paper
As we transition from quarantine back to normal life at work and at home, there has never been a better time for marketing with seed paper. We offer numerous promotional seed paper ideas for marketing that will help to bring people closer not only to you and your brand but also to experience the beauty of nature with beautiful flowers.
Today we are sharing nine easy ways to use promotional seed paper for your upcoming summer marketing initiatives.
What Is Seed Paper?
Seed paper is a handcrafted paper embedded with wildflower seeds. The paper can be used for a wide variety of marketing items and when those marketing items have fulfilled their usefulness the paper can be planted. Once planted, the paper will break down or biodegrade, the seeds will germinate and wildflowers will grow.
Benefits of Seed Paper
Seed paper is eco-friendly, so it is a great promotional product that will stay true to your brand's green goals. The paper safely breaks down and the wildflowers are living reminders of your brand. Printing on seed paper is different from regular paper and what really sets it apart is that it is very memorable.
Seed paper creates an experience. Your customers will first notice and feel the texture of the seeds embedded in the paper. Then they will plant the paper, and by the time the wildflowers bloom, your customers are invested in the experience. This experience will stick with your customers and endear your brand with them.
Seed Paper Marketing Ideas
Here are nine custom seed paper marketing ideas. Each item is customizable, so you can create something specific to your brand that will relay your message.
1. Seed Business Cards
Business cards are perhaps one of the most popular forms of printed business collateral. Your business cards will stand out from the rest when you customize these seed business cards.
Full-color printing relays contact info and any important details, while the seeds embedded in the biodegradable paper will leave a lasting impression.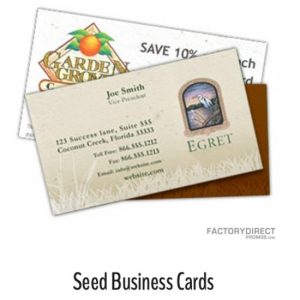 2. Mini Seed Cards
There is lots of space to promote your brand when you customize these mini seed cards because they support double-sided printing.
These cards include a slot where we can insert a piece of seed paper die-cut into a unique shape. This will draw people in and ensure they immediately engage with your promotional item.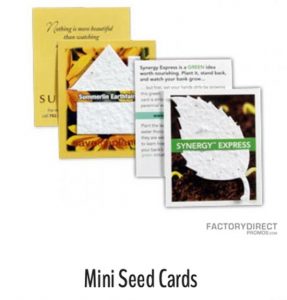 3. Folding Seed Cards
Traditional folding cards are a great way to send well wishes or just stay in touch with your customers, vendors, and other contacts. These folding seed cards can be custom printed in full-color on all sides.
What really helps them stand out is the die-cut shape made from seed paper. The shape is secured to the card by sliding it into a slot and the recipients can plant that shape for a memorable marketing interaction.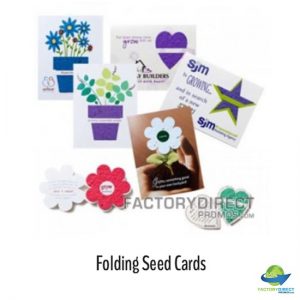 4. Eco Life Promo Planter
Although not seed paper, we included these eco-friendly promotional planters as they make it easy to grow plants indoors and then transfer the plants outside. The planters are made from rice hulls and corn husk and they are completely biodegradable, so they can be planted in the ground after the seeds sprout.
You can customize the look of the sleeve that wraps around the planter to spread your branding message.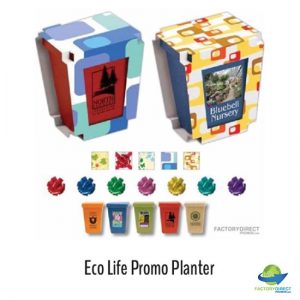 5. Mini Seed Bookmarks
The full-color printing on these seed paper bookmarks will convey your branding message, but the seed paper die-cut into a custom shape will really leave a lasting impression.
Choose the size and shape along with your artwork for something that is unique and memorable.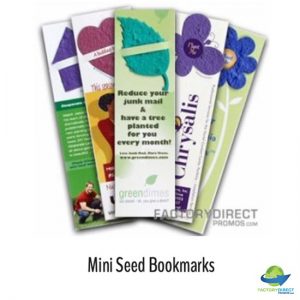 6. Seed Mini Gift Packs
The memory of these handouts will stay with your customers long after they receive them because of the plantable die-cut seed paper shape.
Print your marketing message on these seed mini gift packs and include instructions to plant the seed paper so your customers can think about your brand as they enjoy the wildflowers they grew.
7. Seed Shape Packs
Spread your message with these seed shape packs. Each pack contains 3 or 6 custom die-cut shapes made from seed paper and is packaged in a corn-based clear bag.
You can print your contact info and marketing message on the info card.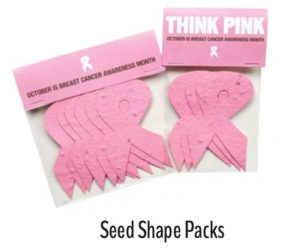 8. Seeded Postcards
Mailers are a great way to reach out to your contacts, particularly now since many trade shows and conventions are postponed.
These seeded postcards make it easy to stay in touch while also creating a really positive and memorable experience between your customers and your brand.
9. Seed Paper
Get creative and design your very own completely unique marketing items with these 8.5″ x 11″ seed paper sheets. Whatever you create, it is sure to stand out from the pack because of the seed paper.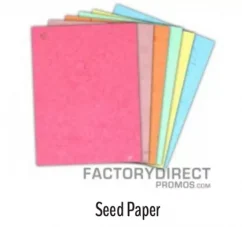 Get Growing!
Ordering your custom promotional seed paper items now will ensure you have everything you need to start growing your business come summer. Seed paper items make excellent promotional products because they immediately catch your customer's attention and they create a memorable and positive experience.
Shop our wide selection of seed paper and contact Factory Direct Promos for your customized quote.
Tagged