2017 Holiday Promos Turn Your Marketing Green and Strengthen Client Relationships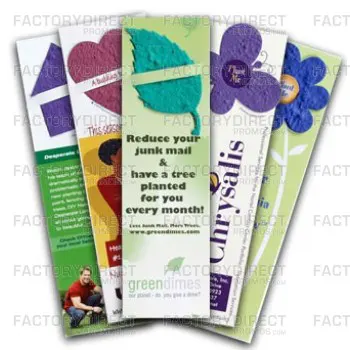 Thinking of Marketing Green This Holiday? Let's Do This with A Deal!
Our 2017 holiday promos are here and we've rounded up some green marketing items at some really amazing price points. See what items you like and we can get to work establishing a greener presence for your company that will spread holiday cheer to strengthen client relationships beyond the holidays.
Pick Your Eco-Promo Item
We are offering full-color mini and baby bookmarks starting as low as 41 cents. You can print your company's logo and branding statement along with well wishes for the holidays on the bookmark, but what will really make this item standout is the die-cut seed paper embellishment. Select a shape, seed paper color and even the type of seeds embedded in the paper to make it memorable.
If you were thinking about a full-size card consider our full-color seed holiday cards starting at $1.07. The entire card is made from seed paper which gives the card a really textured feel and it can be planted after the holidays for a unforgettable and eco way to spread your branding message and some holiday spirit.
Keeping with the seed paper theme we are also offering our full-color seed mini gift packs for a mere 54 cents. You can have your marketing info and holiday wishes and maybe even a coupon code printed on the main card, choose the stock color and die-cut shape of the seed paper insert and you are good to go. Your customers can plant the seed paper insert and enjoy the resulting plants, and they can also hold on to the main card to keep your contact info close at hand.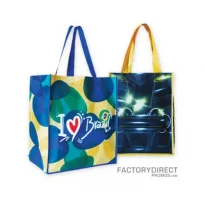 If a reusable bag was more of what you had in mind maybe our custom full-color dye sublimation bags are for you. Starting at $3.24 these durable bags can be completely customized – select the size, work in your corporate colors and print your slogan along with maybe your web address or even holiday wishes to create a bag that speaks to your brand. A reusable shopping bag is a great gift on its own, but you can also use your branded bag to package, or wrap, other gifts. Our well-made reusable grocery bags usually last for years to come, so your customers will be putting your branding message on display long after the holidays are over.
Customize the Holidays with Our Full-Color, Eco-Friendly Items
A free full-color imprint helps your bottom line while also putting your branding message front and center for all to see while low minimum quantities allow you to order the exact amount you need.
Our fast turnaround time ensures you will have your finished custom item in your hands in no time, so if you need your branded products quickly in order to hand them out as a holiday gift or for an upcoming event no worries – we've got you covered. You can easily spread holiday cheer with our eye catching and eco-friendly promotional items.
Questions?
Do you have questions about our 2014 holiday promos? Or are you ready to get started? Let us know today! We can help you through the process easily and quickly so you can be handing out your branded items and wishing your customers happy holidays in no time.
Tagged