Making Multi-Family Recycling EASY at SWANApalooza 2019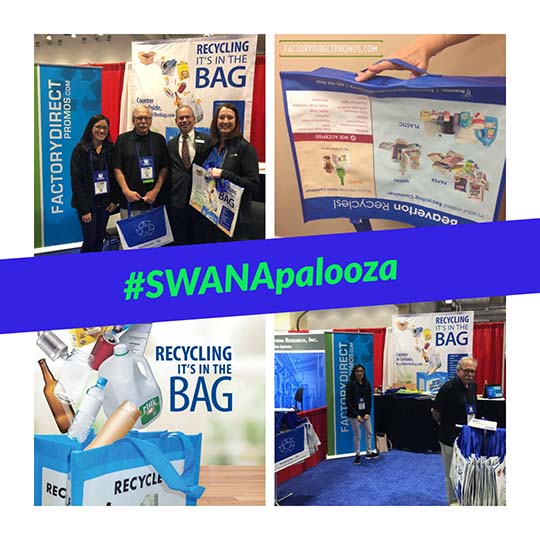 Learning More About Waste Management
We recently had the opportunity to exhibit at SWANApalooza 2019 to learn more about the need that exists in multi-unit housing for easy recycling solutions. This four-day convention was held in Boston, Massachusetts and brought together many influencers across the solid waste management industry. We were excited to showcase our solution for easy multi-family recycling, and connect with friends and existing customers. We also had the opportunity to meet and chat with many of those influencers of the industry to get a solid idea of their needs. Let's find out more about SWANApalooza and how we can make easy work of increasing recycling rates in multi-family homes.
What is SWANApalooza?
SWANApalooza is a conference put on by the Solid Waste Association of North America (SWANA). This organization boasts more than 10,000 professionals from both the public and private sectors and is dedicated to addressing the needs and advancing the solid waste management industry. SWANA holds a variety of conferences and training courses all over the country, as well as providing certifications and training for professionals in the solid waste industry. Ultimately, SWANA works to improve responsible management of solid waste as a resource.
Exciting Guests
We met so many great people, but we were particularly thrilled to have David Biderman, Executive Director and CEO of SWANA, stop by our booth. David is a seasoned pro in the industry and works tirelessly to bring attention to issues surrounding waste management and recycling and recruiting and retaining front line employees. It was great to meet with David again and our team was happy to share with him our efforts to increase recycling in apartments and other types of multi-family dwellings.
The one and only @biderman of @SWANA in action at our booth yesterday! We would love to meet you too! Come visit us in booth #632 to talk about making #multifamily #recycling EASY!#SWANApalooza #GoReusableNow #BeginWithTheBag pic.twitter.com/NyNAgouDcY

— FactoryDirectPromos (@FactoryDPromos) February 27, 2019
Making a Difference with Reusable Recycling Bags
Our contribution to SWANApalooza was introducing and explaining the role of reusable recycling bags. These bags are
designed to help tenants in apartments round up and easily carry items for recycling. Essentially, our reusable recycling bags are to tenants, what the large curbside recycling bins are to folks who live in single-family homes. These bags were designed to provide an effective and space-saving solution to recycling in apartments. Everything about our reusable recycling bags can be customized. Property managers or municipalities can tailor the design to fit the needs of their tenants and residents and ultimately improve the functionality. All of the printing on the bags can also be customized. Include helpful tips about recycling, like what items can and cannot be recycled and a website or phone number tenants can use to learn more.
#MultiFamily #recycling doesn't have to be hard! Our daughter brand is making it easy for municipalities, managers and complexes across the country! Find out how now! #SWANApalooza https://t.co/4klMXo064D

— SBS Brands (@SBS_Brands) February 27, 2019
Fun in Bay State
We had a great time in Boston at SWANApalooza 2019! We want to extend our sincere thanks to the organizers for putting together an informative and fun conference. We look forward to seeing everyone next time! If you want to learn more about how to "make multi-family recycling easy" then reach out! We have been in the business or creating custom reusable bags and other products for almost 30 years. We are dedicated to our customers and sustainability and to back this up we have earned a variety of honors and distinctions, including GOTS, Fairtrade, ISO 9001-2015, and FEDEX. Whatever the size of your business or the size of your order, we are here to help you make multi-family recycling easy with reusable recycling bags.
Tagged