Find Out How to Ban Plastic Bags in Your Hometown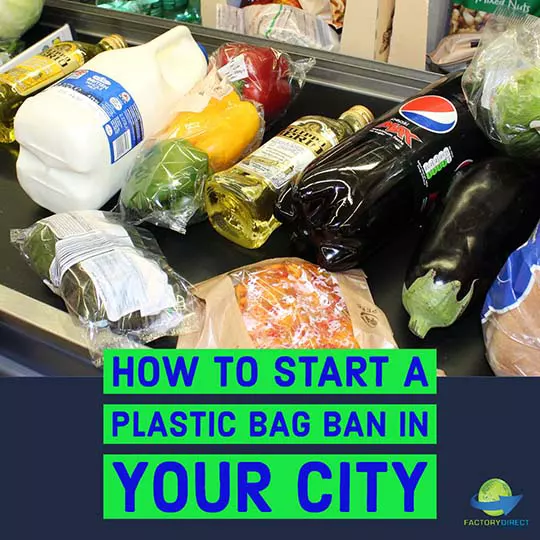 Here's How to Start A Plastic Bag Ban in Your Hometown!
The bag ban movement is going strong! Maybe you want to do your part and ban single-use plastic bags in your city. From reducing litter and making better use of nonrenewable resources, there are lots of reasons why you want to add your hometown to our plastic bag ban map. A recent article in Waste Advantage Magazine helped clarify the process, but we've also outlined the steps to take to start a plastic bag ban in your city.
1. Do Your Homework
Different places have different laws, so brush up on the rules and regulations in your city, county, and state and plan accordingly. For instance, several states currently have laws preventing cities and counties from implementing bans. In these locations, groups and cities that wish to start plastic bag bans are working to overturn the respective law as the first course of action.
Find out if there are any necessary reports or if you need to round up a certain number of signatures to get the measure on a ballot. What you learn during this research phase will likely guide your overall timing. For instance, if you plan to get the proposed ban on a ballot there are due dates regarding when signatures must be submitted.
2. Start a Movement
You have reasons why you are passionate about banning plastic bags. This is your opportunity to conduct outreach and help others understand why a bag ban is in everyone's best interest. Keep in mind that people may come around to the idea of a ban, but for reasons different from yours. Outline all of the reasons why plastic bag bans matter and how such a ban would ultimately benefit your community.
Be prepared to address opposition to the bag ban. Some community members and businesses may be concerned about banning disposable plastic bags. Single-use shopping bags have become commonplace and many people view bringing their own reusable bags to shop as an inconvenience. Businesses will also be at the forefront of the ban and they are the ones who will have to deal with disgruntled customers. The transition is fleeting, but many retailers would likely prefer to avoid having to deal with a ban. Take these opinions and points of view into account and incorporate these
No movement would be complete without social media. Set up social media accounts and maybe even a website to help spread the word. These accounts can be a great stand-in for answering questions and helping raise awareness of your cause. You can also make community members aware of upcoming meetings, discussions, and votes to keep everyone involved and in the know.
3. Work with Local Officials
Partner with officials to help navigate your local government. Sometimes bills need sponsors who introduce the measure and champion it. Even just having a highly visible public figure can be enough to spread the word and get people aware and interested in what is going on. Local officials can also offer guidance and help advance your proposed single-use bag ban.

Start a Bag Ban
These steps are a high-level view of what you need to do to pass a single-use plastic bag ban in your city. The journey to implement a plastic bag ban is different for each city. There are always obstacles or circumstances unique to every location. To find inspiration and help you learn more about plastic bag bans check out our map.
As always, if you want to find out more about custom reusable bags and how these promotional products can help get the word out for your cause – get in touch!