Will Vermont Bag Ban Still Move Forward During COVID-19?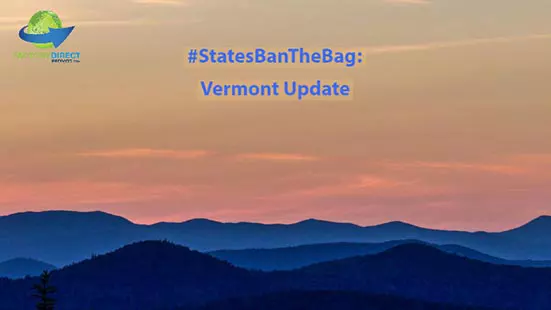 Going Green in the Green Mountain State
Vermont was one of several states to take a stand against plastic last year when they passed what is the most comprehensive statewide ban on single-use plastic items to date. We have long tracked the bag ban movement and the #StatesBanTheBag movement. You can discover bag bans near you or anywhere in the world when you check out our map.
A lot has changed in the world since Vermont's bag ban was passed. Many cities and states have delayed the start date for their bans, due to COVID-19, and some existing bans have even been temporarily lifted. Vermont is taking a different approach.
Get the latest update on the Vermont bag ban and find out how your business can help Vermonters go green while supporting your business.
Why Ban Bags
Plastic bag bans are intended to reduce the use of single-use plastic shopping bags. These thin, lightweight bags are very likely to end up as litter or in landfills. Plastic pollution destroys ecosystems and is harmful to animals.
Landfilling plastic is not much better since the bags just pile up and the resources are lost to the recycling industry. Eliminating single-use plastic eliminates a variety of resulting environmental problems. Eliminating plastic litter also saves money by reducing cleanup costs.
Vermont Takes Action
Vermont responded to the build-up of plastic litter by approving a ban that prohibits single-use plastic bags, plastic straws, and stirrers, as well as polystyrene plates, cups, take-out containers, egg cartons, and more. Paper bags are allowed for a 10-cent fee under Vermont's ban.
Vermont still plans to introduce its bag ban on July 1, 2020. The Vermont Department of Health has deemed reusable shopping bags safe to use during the COVID-19 pandemic.
Shoppers are encouraged to routinely wash their reusable grocery bags to stay safe and prevent the spread of germs and bacteria.
How Your Business Can Help
With single-use plastic bags no longer available, shoppers in Vermont have a need for reusable shopping bags. Your business can help by providing reusable bags for your customers in Vermont (or other areas impacted by bag bans).
Reusable shopping bags for retailers can be customized with your branding information, so the bags will remind customers about your business each time they are used. The bags will also help promote your business to a wider audience as your customers carry the branded bags.
Let's Get Started
Custom reusable shopping bags are a great way to market your brand in this era of bag bans and we have helped countless businesses create unique bags that speak to their brand. The biggest mistake we see when clients place orders with us is that they do not allow enough time for production. We have two options for ordering custom reusable bags: in stock or custom/bulk.
We can quickly turn around an in-stock order in a few weeks. In-stock is ideal if you plan to order a smaller quantity. Our custom/bulk ordering is a better fit if you want to alter the design of an existing bag, create a new bag design based on your specifications, or order a large quantity of 10,000 or more. Custom/bulk orders take up to 8 weeks.
Go Green With Your Marketing
Reusable bags make excellent marketing tools that are eco-friendly and make it easy for your customers to adapt to a plastic bag ban. Our selection of certified reusable bags is approved by CalRecycle, which means you can be confident these bags will hold up under regular use and continue to promote your business.
The bag ban movement is constantly expanding. While recent events have altered the plans for some bag bans, Vermont is a great example of a bag ban that is still going through despite the spread of COVID-19.
If a bag ban is not in your area yet, there will probably be one soon enough. Shop our complete selection of reusable shopping bags and ask for your customized quote today.
Tagged