Does Marketing with Promotional Bags Work?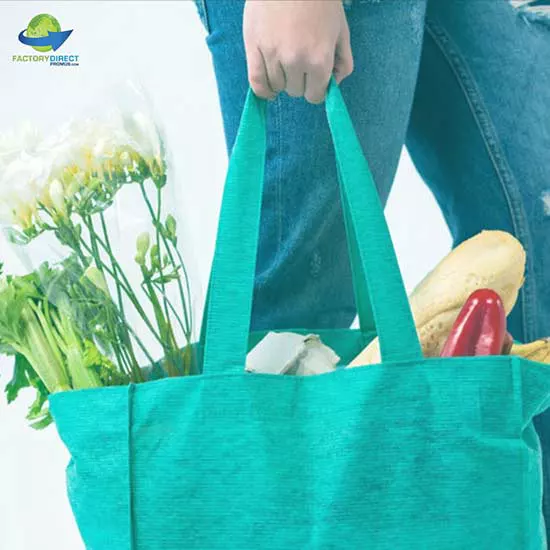 Making the Most of Your Marketing Efforts
You have a lot of options when it comes to how to promote your business. An abundance of options exists in terms of how to spend your marketing budget. You need to determine which method will effectively reach your audience and deliver the best return on investment. Promotional bags deliver on all fronts by reaching a wide range of people with a relatively minimal investment. Find out why marketing with promotional totes works and why you should consider adding them to your marketing lineup.
6 Stats About Marketing with Promotional Bags That Prove They Work
All of these stats came from the January 2020 edition of Advantages Magazine and are based upon the ASI (Advertising Specialty Institute) 2019 Global Ad Impressions Study and ESP Data.
1. 73% of Consumers Own Promotional Bags
Seventy-three percent certainly is a lot of people and with all of the single-use plastic bag bans being implemented, this number is only going to increase. But what 73 percent means is that members of your demographic likely own promotional totes or they encounter people carrying promotional bags all the time. This kind of exposure can ensure your customers are routinely thinking about your brand.
2. Bags with Logos are Kept an Average of 11 Months
In terms of advertising, 11 months is a long time. It may only be cost-effective to place a print ad for a single issue of a publication or an online ad for a matter of days. But over the course of 11 months, your custom promotional bag can have a major impact and help spread the word about your business.
3. 84% of Baby Boomers Report Owning a Promotional Bag
This statistic matters because it tells us it isn't just the youngest of our generations that are interested in sporting a reusable bag. If your target market includes this cherished group of consumers, a promotional bag will appeal to this demographic.
4. 3,300 = Number of Impressions a Promotional Bags Delivers
3,300 impressions mean people see your promotional bag and internalize your message. People may not realize that they're reading and internalizing your message, but they will and your branding will become familiar and recognizable. A single reusable bag can reach a significant number of people and make a major impression.
5. A Promotional Bag That Costs $5 Will Have a CPI (Cost Per Impression) of Under 2/10 Cent
So 3,300 impressions are pretty compelling on its own, but when you look at the cost of impression, or CPI, that makes for an even more compelling story. You can really maximize your budget when it only costs you fractions of a cent for each impression your custom promotional totes deliver.
6. 50% of Consumers are More Likely to Do Business with the Advertiser That Gave Them a Promotional Bag
The action of giving your customers a promotional bag makes an impression. Aside from the obvious impression of viewing your branding info, the gesture matters. People like receiving things and something as useful and thoughtful as a promotional bag will really stand out. This action creates a positive association and customers will think fondly of your brand, and when it comes time for those customers to make a purchasing decision, they'll remember your business.
Maximize the Value of Promotional Totes
We have been in the business of helping people create custom promotional bags for almost three decades, so we've learned a lot about how to streamline the process and we can help you create the right bag for your brand!
All of these stats prove just how effective a promotional bag from Factory Direct Promos can be for your business. If you are looking for a way to make the most of your marketing budget while also making a lasting impression then consider creating your own custom reusable bags for marketing.
Tagged