5 Ways Recycled Kraft Paper Bags Help Marine Life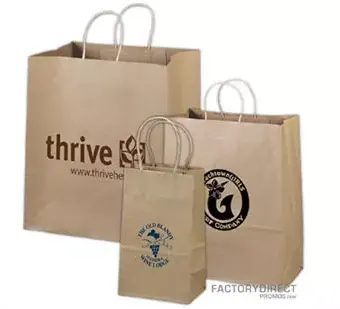 Why You Should Promote Your Business with Recycled Kraft Paper Bags
Shopping bags come in many forms from plastic to paper to reusable. Of all these options, paper bags, specifically recycled kraft paper bags are possibly the most misunderstood. Recycled kraft paper bags are an eco-friendly choice that your customers will appreciate.
With the help of an Infographic from Two Sides North America let's explore why paper bags are a great option for your retail use.
How Paper Bags Help Marine Life
Oftentimes, the benefits of kraft paper bags are measured against the drawbacks of single-use plastic shopping bags. In order to really get to the bottom of what makes paper bags so great, it's necessary to understand how disposable plastic bags continually fail businesses, consumers, and the planet.
Plastic bags are made from nonrenewable resources and they are difficult to recycle which has led to low recycling rates. Plastic bags are very likely to end up as litter.
This litter is a serious health risk to animals, particularly marine animals, that may ingest the bags or become tangled or stuck in the discarded bags. With this background, it is easier to understand just how paper bags help marine life.

1. Paper Bags Are Made From Renewable Resources
Paper bags are made from trees which are a renewable resource. There is a limited number of times paper can be recycled, but more trees can be grown to offset paper fibers that are no longer able to be recycled.
Manufacturers make sure to use trees grown using sustainable practices to ensure that paper manufacturing is done in an environmentally responsible manner.
2. Paper Bags Are More Likely to Be Recycled
About 68% of the paper used in the U.S. is recovered for recycling. Such a high recycling rate means that this resource can be repurposed into new paper materials to be used again. This high recycling rate also means that there is less paper bag litter.
Litter in any form poses a risk to animals and their habitats. Estimates indicate only about 9% of single-use plastic bags and packaging are recycled.
3. Consumers Prefer Paper
Research has shown that consumers feel paper bags are more eco-friendly than plastic bags. This is possibly a result of the ease surrounding paper bag recycling and that they are often made from sustainably managed resources.
Make sure you give your eco-minded customers what they want by providing kraft paper bags. Your customers will appreciate this and marine animals will too since these bags are more likely to be recycled.
4. Kraft Paper Bags Are Biodegradable
Recycling is the responsible way to handle bags that have fulfilled their usefulness. However, if for any reason paper bags end up in a landfill or as litter, they will biodegrade. Or rather, they will safely break down into their base components and be absorbed into the ground.
By comparison, about 8 million metric tons of plastic litter end up in the ocean each year. Once in the water, plastic litter is there to stay. It will be a risk to marine animals and the food chain.
5. Paper Bags Are a Safe Alternative to Plastic Bags
Single-use plastic bag bans are becoming more common. In the United States alone, countless cities and counties and now many states have passed bans on disposable plastic bags.
Some of these laws impose limitations on paper bags, such as fees. There is a strong movement to do away with plastic bags in an effort to reduce the negative environmental impact.
Promoting Your Business with Recycled Kraft Paper Bags
Our recycled kraft paper bags are made from 100% recycled paper. These bags can be reused and they can be recycled when your customers are done with them. Our available bags come in a variety of sizes and each features dual matching twisted paper handles for an easy grip.
Our recycled kraft paper bags are made in the USA and you can customize the look by selecting from our large lineup of imprint colors. We can even offer full-color paper bags.
We're Here to Help
Recycled kraft paper bags are a great option you can provide at the checkout for your customers to carry out their purchases. Custom paper bags are eco-friendly and a safe alternative to plastic. When you customize the look of paper bags with your branding information they will also work to spread your marketing message and promote your brand.
We make customizing your very own recycled paper bags easy because it's what we do. We have been helping customers customize promotional products for over 10 years and we use everything we have learned along the way to make the entire process as easy as possible.
We hold numerous certifications, including GOTS, Fairtrade, ISO 9001-2015, and FEDEX.
Contact us for Kraft paper bags to promote your business and get all the help you need to create the perfect bag for your customers.
Tagged